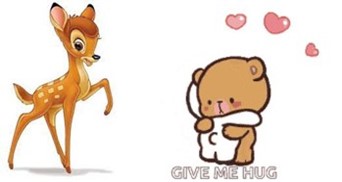 Bambi has older posts devoted to national or international days of this or that, as you can see below. Some designated days seem more meaningful like violin or a hug. Others look odd, like whipped cream, even if tasty.
Often, we do not know who came up with those ideas. However, today is a day filled with touch and love. Yes, it is the National Hugging Day and we know who invented it!
Indeed, the National Hugging Day, which is dedicated to hugging, was invented in 1986 by Mr. Kevin Zaborney from Clio in Michigan, USA (https://bit.ly/3iViYKO). It seems that his idea was meant to cheer his fellow citizens up at a time of the year where they are typically "in low spirits". According to Mr. Zaborney (https://bit.ly/3iViYKO), in his society, people are reluctant, if not embarrassed, to show feelings in public. What is more heart-warming than a genuine hug? It is even more significant after so many months of strict public health measures where people were socially isolated.
Will your day include a hug? Sometimes, we can sing for hugs, like the kids' song below or like in love songs, at least in Lebanese songs, or even in some spiritual songs. We can ask a certain God we believe in to hug us. We can even sing for a self-hug (yes all this is available on YouTube). If you do not have anyone to give a hug to or to receive a hug from today, you can always give yourself a hug.
—