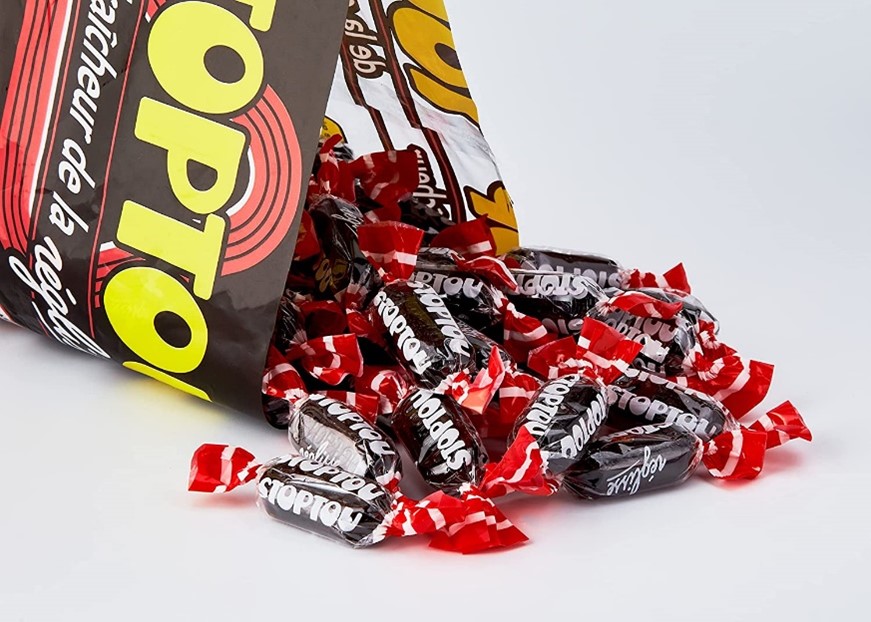 In an earlier post devoted to violin, Bambi wrote the following: "Think of anything you like or not, there is an international day for it! Sometimes a single day of the year has been declared to be devoted to two or more events or objects at once; by we do not know whom…". Bearing this in mind, imagine that today is the National Hard Candy Day (https://bit.ly/3PAB2Wm)!
With all due respect to the diversity of candies of the world, in all their shapes, colours, and taste, those who know Bambi well know that she is guilty of having a favourite candy. It is called Stoptou and it can always be found in her purse. It is made in France; yes this same beautiful country that lost to Argentina in the 2022 World Cup yesterday; bravo to the latter and sorry for Les Bleus, even if a second place deserves celebrations, despite the disappointment!
Anyhow, to come back to Stoptou, this candy reminds Bambi of her childhood in Beirut. Hence the emotional component of her attachment to it. The other part of this attachment to Stoptou may be explained by her love of sweet, despite her age, and her appreciation of licorice. Another advantage of these apparently addictive candies is that they allow you to talk for over three hours without feeling a need to cough or drink water (hence the clever name: Stoptou, which literally means stop the cough).
This being said, if you think that Bambi is being paid to advertise this candy, you are wrong. She is "selling" it to you because she is convinced it is a great product, provided you do not have diabetes and you like licorice. If not, it is surely not for you. She recently learned from her competent dentist and dental hygienist that eating candies is fine still, even in middle-age, as long as it is done in one setting only, not non-stop, to limit the risk of cavities. Phew!
In addition to the picture featured above, here is what the smallest bag of Stoptou looks like. Bambi loves those candies so much that it is her traditional wish for birthday or Christmas gifts [if Santa or anyone asks :)]. They can be found of course in France, also in Lebanon, likely in other countries too… and more recently, they can be purchased online from not just Europe, but also Canada, imagine.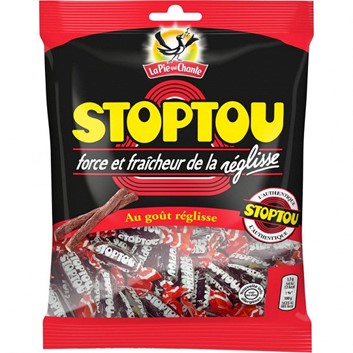 And look what Bambi just discovered while preparing this post! How come she did not know about this product? Maybe it is new. Maybe it did not exist in Lebanon back then or maybe she forgot about it as she is too old to eat candies :).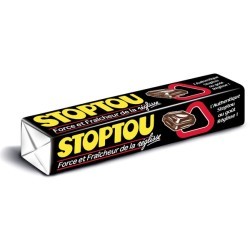 If you are interested, now is the time to share with you a video about Stoptou.
OK, enough of serious marketing! Time for a note of French humour, along with two songs celebrating candies; one is romantic and the other is a kids' dancing melody.
As per older tweets by a French TV show, you can read a funny message that can be translated into English as follows: "No, President Macron did not have a Stoptou on his desk while giving his speech. It was the Medal of the French Resistance".
To come back to the songs mentioned above, the first is "Les bonbons" [The Candies] of Mr. Jacques Brel. Bambi loves this song. Like its lyrics (subtitled in English), she may prefer to receive "a bouquet" of candies instead of flowers; despite her great appreciation of the latter, of course. This sarcastically romantic song reminds Bambi of her high school teacher of French Literature. If she may, Bambi would like to pause to say: "bonjour Madame Khalifé" :). As for the second dancing melody, it has a Christmas touch and it is meant to bring a smile to your faces in this forthcoming holiday season.
To conclude this post, Happy International Hard Candy Day to everyone. Long live all the candies of the world, including Bambi's beloved Stoptou!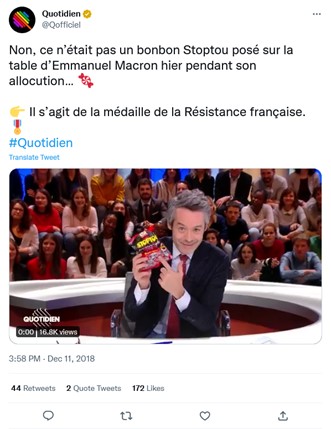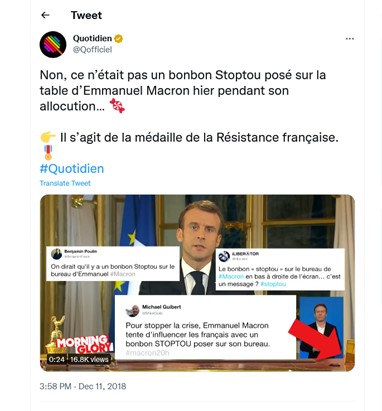 —