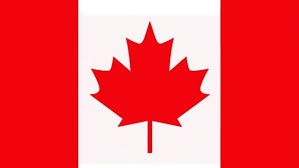 Yes, time flies, even if three decades is a long time in someone's life.
Bambi has always thought that any extra year beyond civil war was a gift of life. She would happily enjoy it and be grateful for it. Imagine 32 years beyond this unforgettable June 17, 1990 (as described in a post from last year shown below).
How can Bambi not be grateful, especially for a life enriched by meeting wonderful people in three different provinces of our beautiful country?
Is our country still the same as Bambi discovered it upon her arrival? Of course not. It is not even similar to what it was 10, five, or even just 2-3 years ago.
Is Canada still worth loving and celebrating, despite our collectively insane times? Of course, always!
Today's post will be brief. It will end with a few songs to highlight this important day for Bambi, her family, and her dear friend Carla. Their friendship began on a KLM flight. Together they discovered their beloved Québec. They did crazy things in their youth like taking belly dance lessons and returning to their neighborhood dancing on a bridge, ignoring cars that passed by them :). Happy June 17 to you too Carla ❤️!
—