There is a reason why Québec is called "La Belle Province". It is beautiful!
Of course, this part of Canada is stunning not just because of its beautiful landscape, but also its wonderful and welcoming people.
If you do not believe Bambi, go visit Québec's charming regions, especially the Maritime part of the province (neighbouring the lovely New Brunswick in Atlantic Canada).
How about the Gaspésie, as a start? Thanks to her dad, Bambi and her family had the chance to visit this region three times in the 1990s (when living in Montreal).
If you tour the Gaspésie, you will be spoiled with the charm of both Mother Nature and the kind Gaspesians. Some of the famous latter include, but are not limited to, the following talented singers [Ms. Isabelle Boulay (https://isabelleboulay.com/), Mr. Kevin Parent (https://en.wikipedia.org/wiki/Kevin_Parent), Mr. Patrice Michaud (https://fr.wikipedia.org/wiki/Patrice_Michaud)] and skilled hockey players [Mr. Cédric Paquette (https://en.wikipedia.org/wiki/C%C3%A9dric_Paquette)].
Well, today's post is specifically meant to share a picture recently taken by one of Bambi's talented friends. She will name Gina, thanking her for having kindly accepted to share her picture with all of you via this blog!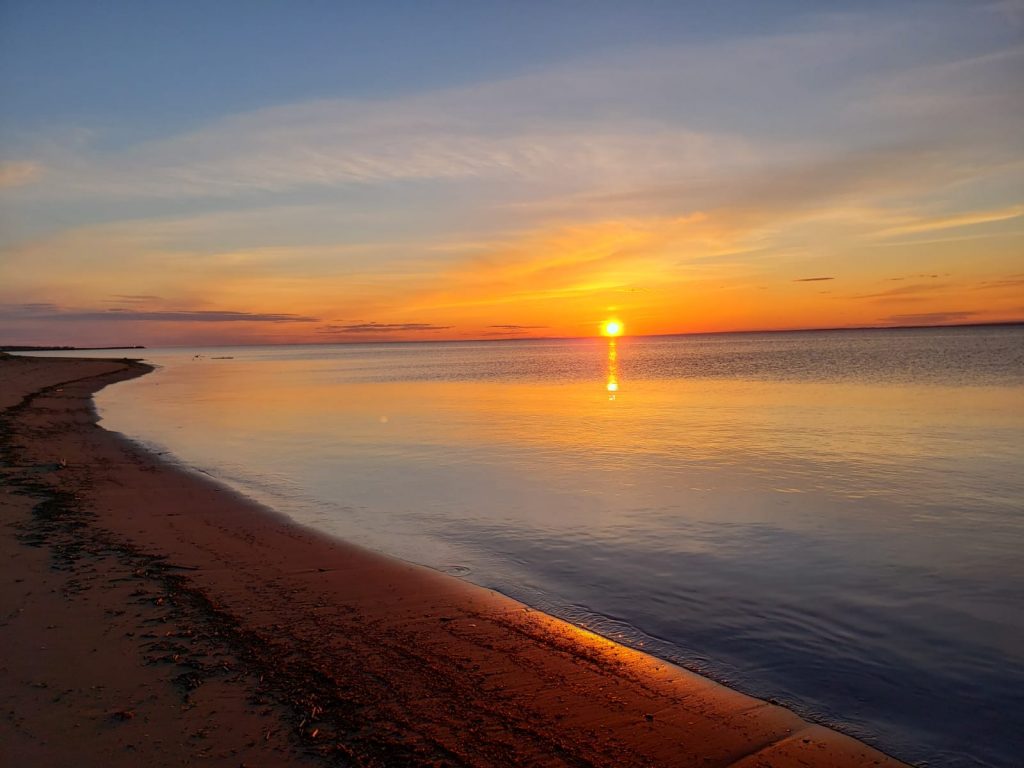 In addition to the beauty of the moment that Gina captured in her camera's lens, this picture is making Bambi literally dream of the forthcoming day that will follow both this sunset and the imminent night.
A sunset precedes the dawn and announces a "fresh" hope for a better day after the darkness of the night (link to the older post below?). Bambi appreciates sunsets, but loves dusk times (time in between the sunset and the night), perhaps precisely because of the "promise" of a new day. In her mind, there is serenity in knowing that life (with its days, nights, seasons, etc.) will always go on, that is regardless of happy or adverse times and despite grief following meaningful losses, including the death of a loved one or our own finality.
To conclude this post, how about first starting with a wish? May your forthcoming day, and our first long weekend of the summer, be as beautiful as you want it to be. Second, please find below a video (with beautiful images) and Mr. Félix Leclerc's French song about Gaspésie!
—