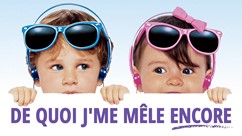 Bill 21 is a moderate bill on secularism compared to what is practised in Europe.
Bambi has several older posts on this topic (most if not all are shown at the end of this post).
Very briefly, Bill 21 is a bill made by Québec for Québec.
This bill respects the history and culture of the secular Québec.
This bill bans ALL religious symbols in those working for the government who are in positions of authority.
This bill was voted by a majority government. It is supported by the majority of Québeckers, including Muslims and Arabs. However, of course, our mainstream media funded by our federal government will not show us this side of this story.
This being said, Bambi just learned from a quick tour of the English- and French-Canadian media about the latest Canadian nonsense: Municipal councils across the country are adopting motions to help fight Québec's Bill 21 in court. When will our federal government and woke-oriented municipalities (https://globalnews.ca/news/8456407/brampton-toronto-fight-quebec-bill-21/) stop their campaign against Québec? Until they understand that it is none of their business to interfere with Québec matters, here is a song for all of them from Bambi…
—