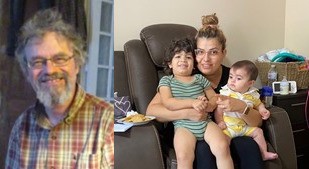 Bambi has always spoken very highly of Mr. Wark on this blog as well as in real life.
Indeed, we are so lucky to have the talented Mr. Wark (i.e., New Wark Times https://warktimes.com/about/) in our community. His existence and talent are highly appreciated, especially with the lack of local media in our region (South Eastern part of New Brunswick and in the nearby Nova Scotia).
Well, today, Mr. Wark's article is about Ms. Rachelle Farah, a resident of our town (Sackville, NB) who is "questioning the long delay in getting her Lebanese husband into Canada".
https://warktimes.com/2021/10/02/sackville-mother-questions-long-delay-in-getting-her-lebanese-husband-into-canada/
Although Bambi knows and loves Rachelle Farah, she is able to take an emotional distance to say the following about Mr. Wark's latest article shown above.
It is a timely, informative, thoughtful, and as usual, very well written article. Yes, it is filled with journalistic talent and humanity. Indeed, Mr. Wark has skillfully amplified Rachel's voice while also giving a voice to her voiceless young boys, Elias (3-year-old) & Moussa Jr. (7-month-old). The latter are growing up SO far away, geographically speaking, from her their dad, Johny.
Just think that, as a father and spouse, Johny has gone through not just a revolution, but a pandemic, and a huge surrealistic blast in addition to a harsh economic crisis in his broke birth country. All this without the presence and warmth of his beloved spouse and adorable boys.
As described in this media article, Ms. Rachelle Farah is also going through personal (health-related) stressful times. Despite this, she is filled with pride and entrepreneurship skills (like her own dad!). She and her spouse want to work and be productive in our country and beautiful town. They want to simply live their married life under the same roof, raise their kids, and sleep next to each other.
Many thanks to Mr. Wark's journalism that supports not just Ms. Rachelle Farah' family, but also through her others who could perhaps be in the same difficult boat. Thank you for the appeal to our politicians. Best wishes!
Canada wants to bring more and more immigrants and refugees… and here we have a man whose family is already anchored and well integrated in our community. A family that has contributed to society by being successful entrepreneurs. For those who do not know the Farahs personally, this family is a decent, hard-working, and a generous one. Rachelle's parents cared for and brought people together not just across Sackville, Moncton, Amherst, but also from Lebanon and abroad. Johny would surely fit in well among his loved ones… and among us all.
Bambi wishes the Farahs all the best! Again, thank you Mr. Wark. PLEASE, keep up your great work!