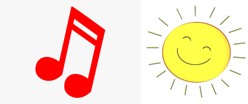 She does not know about you, but a couple of melodies do make Bambi happier almost instantly. She will allow herself to share three of them in this musical post.
First, thanks to Mr. Kendji Girac for singing Aznavour' Emmenez-moi [Take me along] in such a lovely and skilled way. Bambi will offer this song to… herself; yes tonight she wants to be absolutely selfish :).
Second, thanks to the talented Mr. André Souaid for his fantastic 3 dakat [3 heart beats] on the violin. Bambi will dedicate this musical piece to all of you, especially those who love this famous Egyptian summer love song.
Last but not least, bravo for Ms. Talia Lahoud for her beautiful interpretation of Fairouz' Amara ya Amara [Amara Oh Amara], which is subtitled in English and Arabic. This is for you, dear Zeina ❤️. Bambi dreams of featuring this song again (among others!) in a future post, which will be devoted to your incredible singing talent. The latter makes your entire family members so happy… and proud!