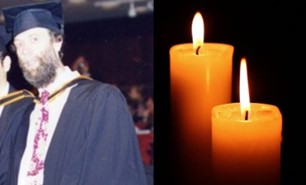 First, Bambi will share Glenn's obituary or life story https://bit.ly/3ZephJc. Further below, an if you wish, you can see an earlier post spontaneously dedicated to Glenn.
Second, with his consent, Bambi wants to share with you Fred's elegantly written and moving text celebrating Glenn's life. He published his "Tribute to Glenn Brown" on the TotalBiblio™website (https://bit.ly/3Zx96q6), which starts with a lovely picture from McGill convocation of October 1998, along with his late friends Alain and now Glenn (maybe they are hanging out together in heaven, could it be?), followed by his tribute.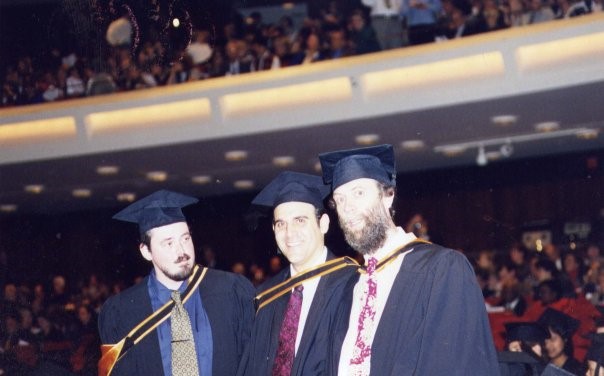 "There I am in the centre with my two best friends from Library School, Glenn Brown on the right and Alain Létourneau on the left. Glenn always called that my 'stick of gum' suit. Hard to believe twenty-five years have passed since those memorable and enriching days when we were so much younger and learning so much together. Being in a female-dominated profession, I organized events for the thirteen of us men in our class of fifty (if you do the math, 26%) and Glenn often showed up. So did Alain and the three of us became good pals. It's hard also to believe I am the last of our trio as Alain passed away in 2006 and Glenn last week.
For our classmate Su, who convocated in June 1998, that ceremony was memorable also because her husband Jimmy received his PhD from another faculty but with the three of us at the same time in October. Short moments after this photo was taken, Glenn lent his robe, mortar and tassle along with the orange sash of library science to Su so she could leave her place as a a spectator in the audience, pose with her husband and have their picture taken side by side at convocation as if they had been together all along and never separated by time. That's the kind of person Glenn was: he could make human moments possible because he was easy to approach and people trusted him.
Glenn enriched my experience at McGill by being a good classmate and a role model to look up to for many others in our class as well. Glenn was suspicious of technology and computers, yet he got one of the coveted jobs of 'IT lab technicians' and was anachronistic in many other respects, for example being something of an "agoraphobic agrarian" difficult to reach by telephone, difficult to enlist for McGill Softball League. Glenn insisted on meeting and talking to people and for that reason, always spoke to the bank tellers and never used a bank machine. Glenn's interests, education and reading were so varied and sometimes odd, he had something to offer everyone. I learned plenty from Glenn about all sorts of things from Newfoundland culture to book culture, wine and cooking, to history and then some.
Although Glenn never married, I was present on campus when news of Joy Tillotson's death from cancer arrived from St. John's. Glenn was visibly shaken so I invited him to our regular pub. We had supper together that same night and I helped Glenn get drunk and talk through the pain and mourning for his once former girlfriend. It seemed that evening did him a lot of good.
After McGill, we stayed in touch for several years and when I lived in New York City, Glenn helped prevent my homesickness by sending me the Saturday Montreal Gazette in monthly mailings of a few editions. I'd call Glenn on Sundays at the Neuro Library and he answered because they have a phone in the library. Glenn was very interested to hear about my new job and city in what he called "fereign parts" since he never visited the 'U.S. and A' even once in his life. Eventually, we became roommates in Snowdon for two years and after which, went our separate ways. I will always remember the good times spent with Glenn and the friends we shared in Montreal".
============
Frederick Klein
March 2, 2023
Thank you Fred. Peace to you heart. Take good care.
Peace also to Louis' heart, and to the hearts of Glenn's loved ones, including his brother, nephew, niece, and Peter as well as Donna et al. Each one of you, without naming everyone. Each one of us. We are all united in our sorrow. We are grateful for Glenn's presence in our lives in one way or another, whether for a limited season or for a lifetime. Tomorrow, at least some of us will be able to say good-bye to Glenn in Montreal (funerals). Please, Louis, give him Bambi's warm regards.
Last but not least, and if if she may, Bambi will end with a prayer dedicated to you Glenn. May your memory be eternal. THANK you for having existed in our lives ?!
—