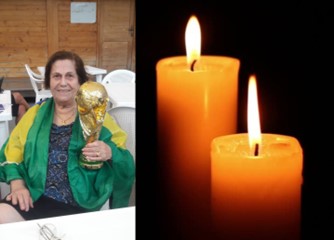 It is hard to imagine "Amto" (or amty, meaning my aunty) Salwa not alive, not active, not full of life… Yet, despite our deep sorrow, it is easy to be happy for her to be in a more dignified place.
Bambi joins her love and prayers to Salwa's family and MANY loved ones especially in Lebanon and Brazil, but also in Canada, Australia, and elsewhere in the world.
Salwa has touched and inspired so many lives, including Bambi's: Obrigada! Thank you! Merci or Shoukran Amto habibi!
For those who have known her closely, Salwa had a sense of perspective and humour in life, which served well throughout her long life in her beloved countries, Brazil and Lebanon where she chose to retire.
Did Bambi say retire? Salwa never retired. She remained more active than ever in the workplace up until the last couple of years of her life; in the pandemic and Lebanon's multiple crises.
It is not Salwa that has retired from life now. It is life that has retired from her.
Some say it's God's will. He knows when it is our time to go. Others say the same with different words: "The lamp ran out of oil" (Khello, these are your beautiful words…). Yet others who believe in the magic of soccer secretly dreamed that if Brazil would have stayed in the Word's Cup yesterday, Salwa may have lived a bit longer today. This may be Bambi's own silliness. Of course, at her age, Bambi knows that life does not work like this.
Yes, too bad for Brazil (bravo for Croatia). Amto Salwa may or may have not been aware enough to know what happened yesterday. However, as her picture above (July 2018) shows: She was a fan of Brazil! She also loved her Lebanon so dearly to the point of returning to it after having escaped its tough economic days by boat several decades ago, way before its civil war (1975-1990). Sadly, she saw her birth country in such bad shape lately.
It is Bambi's prayer that Lebanon will finally rise again; so Salwa's grandchildren living there will see better days. It is also her prayer that Salwa's grandchildren and great grandchildren will also see much better days in Brazil as well.
May your memory be eternal, Salwa. As you used to often joke with your younger colleagues: You had a fiancé, called Dimitrios (Saint Dimitrios is where your ancestors are buried. Sadly, tomorrow you will join them all). They would believe you up until you say with a big smile and laughter: "I love him so much but I am not in a rush to join him :)". It is the time, Amto. Time to be with Saint Dimitrios and to join your loved ones, including your/our dear Khalil. Please keep an eye on us from above and we will keep you in our hearts forever as well.
To conclude this post meant to honour her aunt Salwa, Bambi will send her heartfelt condolences to Lourdes, Georges and to all Salwa's relatives, from the senior ones to the youngest ones. Bambi loves you all ❤️. As for you Amto Salwa, here is a prayer to Saint Dimitrios… May he welcome your soul and guide it to the eternal light, which will never end, like your own oil…