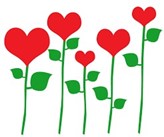 Bambi just listened to this extremely moving video where Ms. Céline's Dion informed us of her very rare recent diagnosis of "stiff-person syndrome". As she shared with her fans, she has been suffering with health issues for a very long time. It turned out that what she has is a very rare neurological condition. It can be described as follows: "an autoimmune disorder of the nervous system, often resulting in progressive, severe muscle stiffness and spasms of the lower extremities and back. It also can affect other body regions" (https://mayocl.in/3VZW1nu).
If she may, Bambi would like to send Céline Dion her love and heartfelt positive vibes, along with her fond regards for her own courage and for the courage of her supportive children. She prays for her full recovery until reaching the most optimal quality of life she can have. May her own song "Courage" inspire her throughout her healing journey. All the best to her and to her multidisciplinary team of care providers!
Canada, Lebanon, and the entire world is behind you Céline! Lâche pas la patate ❤️ !