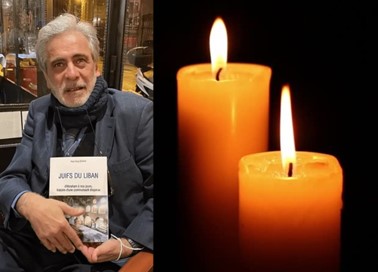 It is with deep sadness that Bambi learned of the death of Mr. Nagi Zeidan, a Belgian-Lebanese author, full of curiosity and compassion, who devoted 28 years of his life researching the Jews of his birth country (https://bit.ly/3VchSYt). May his soul rest in peace.
First, Bambi will send her condolences to his spouse in Brussels, family and friends in Lebanon (where he died), Belgium, and literally around the world. Second, she would like to express her gratitude for all the lessons she learned from him, over the past few years, about one of the integral parts of the fabric of Lebanon (i.e. one of its 18 religions). Yes, without his meticulous legacy, the Lebanese society would have continued to miss a meaningful piece of its rich puzzle.
To come back to the sad news from out of Lebanon, Bambi learned from the L'Orient Le Jour (https://bit.ly/3VchSYt) that Mr. Zeidan fell down in his apartment about a month ago. After spending an entire month in the coma, he left our world on the night of November 12-13.
Of note, Mr. Nagi Zeidan's 2021 book, entitled "Les juifs du Liban" includes the family trees of Lebanese Jews. As for his title "Ami des juifs" ["Friend of the Jews"], he earned it as a passionate and talented specialist of the Jewish community of Lebanon.
Thank you, Mr. Zeidan for your hard work. May your own memory be eternal, precisely like in the drive you had to honour the memory as well as the remaining, tiny community of Lebanese people of Jewish ancestry.