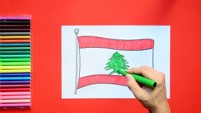 Bambi has an earlier post on the Batroun region in Northern Lebanon, shown further below. Back in July 2022, she had the chance to spend a wonderful day in this region driving through, and visiting its high mountains (rivers, fruits, charming houses, and kind people) down to its shores with its sunset, vibrant touristic nightlife in the old souk, and its superb beaches.
Bambi recalls that some citizens were swimming in the darkness under the light of the moon. How she had wished she was prepared to jump in the water like them. Next time "inchallah", as they say there! Anyhow, what a memorable day under the theme of "cousins" ❤️❤️, thanks again dearest Rana and hello Laila!
Today, Rania who is much talented in both photography and videography, sent her the following short personal video featuring Batroun (https://en.wikipedia.org/wiki/Batroun). Thank you "Rano" for kindly accepting to share the latter with the readers of your sister's blog :). Bambi hopes they will enjoy it as much as she did!
Following Rania's short video, Bambi will share a 4-minute video about this place she just found on YouTube entitled the Majestic Town of Batroun. Of course, a song is a must here. So, to conclude this brief post on a musical note, Bambi chose Helwa Ya Baladi [My Country is beautiful] by Dalida with lovely pictures of Lebanon to make us dream of trips abroad… and perhaps to contribute to make readers form her birth country dream of fair and prosperous days. God knows how much they deserve it ❤️!
—