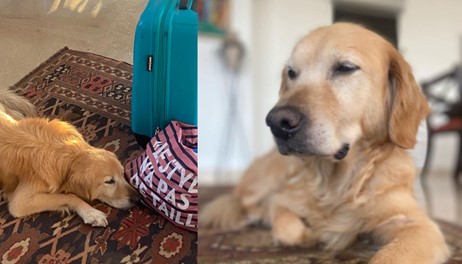 Bambi's heart is sad today. She lost a dear family member. Her grieving heart goes to Kayla's immediate family, the Douglas one by one (Michael abroad, Roula/Gladson, and Nicolas). She is also thinking of Mabelle and Stéphanie as well as all her extended relatives in Lebanon. They all loved Kayla. Even Bambi's family and friends abroad are fond of her. Bambi's heart also goes to her family members, beyond the Douglas, one by one. Everyone is sad today…. Mom and dad, Bambi is sorry for your loss.
Kayla was a famous dog. She had great relatives and friends in Canada and Europe. One of those wonderful friends medically and generously cared for her from far away. She is thinking of you Gina. What a devoted and competent vet you are! Bambi is also thinking of Kayla's own vet in Lebanon and other caregivers. They will all miss her.
To come back to you Gina, a BIG thank you , from everyone in Beirut, Dubai, and even Sackville for your humanity and wonderful words to them today. You are right: They did give this wonderful dog a great life. As you wrote so nicely this morning, Kayla is on her way to the "Rainbow Bridge" (poem shown below).
This being said, Bambi's German cousins also fell in love with Kayla six years ago and had the chance to see her lately. Bambi is thinking of you Laila. She is sorry to share the sad news on her blog (unless you heard it already?). When you left Beirut four days after Bambi, no one saw this coming. Bambi is happy we all got to see Kayla, especially you Michael even for a short time!
As far as she is concerned, Bambi will always remember how Kayla opened her room's door twice to check on her, in the middle of the night, upon her arrival from Canada (Bambi started her journey at her sister's place before moving to their parent's apartment). Sadly, Bambi did not have the chance to return the care to you Kayla. She just sent you her love with her sister and prayed for you to leave our world in peace and without pain.
Last but not least, Bambi cannot end this dog obituary without having a tender thought for all the kind humans and pets Kayla loved in her building and neighbourhood. Of note, she was a good friend to a caring human being, Ahmed. Bambi is thinking of him now. In addition, she was in love with one particular cute dog. Will he miss her too?
Now it is the time to conclude this post. Bambi will do so by paying tribute to Kayla in three ways. First, she will share with you a beautiful picture of our dear Kayla taken in Beirut years ago, courtesy of Roula. Second, as mentioned above, she will share Gina's Rainbow Bridge poem. Last but not least, if she may, she would like to offer Roula, Gladson, Michael, and Nicholas a song inspired by Gina's poem… with much love ❤️. Bon courage tout le monde!