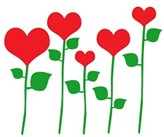 Life can be cruel sometimes… Bambi is still speechless.
How she had wished she could be with you, dear Rita, instead of writing to you across the miles.
Through this post, she sends her love to you as well as to your loved ones: Your brothers, your smaller family, and all your relatives in the USA, Canada, Lebanon… or wherever they are.
As you know, Bambi still has fresh yet very old memories of your dad and mom. Some stories from our childhood are too funny (or should she say embarrassing?). Luckily, you come from a welcoming family with a great sense of humour.
Is your dad with your mom now? Only God knows… Trust that this is Bambi's wish for him and for your mom. She hopes that, together, they are watching over you. May they also keep being with you, of course in an invisible yet loving way. This being said, may the love of your dad and his memory be eternal.
To conclude this brief post, Bambi will thank you Nina, if you are reading now (you know why). Last but not least, if she may, she wants to dedicate a prayer for your late and beloved dad, Rita, with much love to you and your family 💙. Take good care please and be kind to yourself.