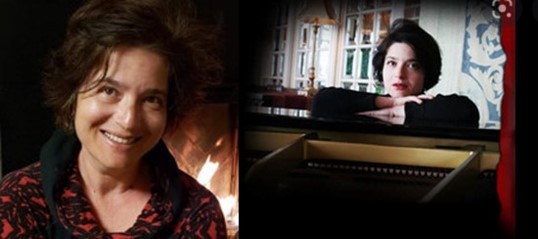 MANY thanks Ora (Itkin) for our inspiring conversation on teaching!
Before sharing the link of our interview with you, Bambi would like to begin with a few examples of student testimonials (https://www.oraitkin.com/home ). Bravo Ora!
"I've had the opportunity to take individual piano lessons from Ora, as well as be coached by her in a trio. I had played piano for many years before I ever knew Ora, but I never realized how many ways I could still grow as a piano player until studying under her now as an adult. Ora has pointed out techniques to improve my playing that no one else has in the past. She helps me find music that not only suits my own style but broadens my abilities. Thanks to Ora's teaching and coaching, I have grown so much as a musician! —Tim Jacobson

Ora's lessons are always energizing and empowering! She puts her soul into every lesson, choosing pieces that are both accessible and challenging, and taking care that the skills developed in each build intimately on one another. As an adult beginner, it can be hard to let go of inhibitions and self-criticism, but Ora breaks through this with her contagious energy and encouragement. She's a fantastic teacher! —Ioana Vartolomei Pribiag

I had great interest in the piano when I was a little kid but my family could not afford to buy one. When I came to college, I received a scholarship that covered the costs of my piano lessons. When I started lessons with Ora, I was 19 year olds and had no music background. 9 months later, I was playing Chopin and Schubert for my first piano recital, which was beyond my imagination. Ora taught me to pay attention to not only technical detail but also to the emotion that each piece expresses. What I love the most about her is that she pushed me to play pieces that I thought were impossible. I will forever be grateful to her for having faith in me when no one else did and for teaching me that everything is possible. —Anh Do, PhD student, Duke University (Skype student)"
At the very end of this post, and if you wish, you can find the two older posts of Bambi featuring Ms. Ora Itkin as an interviewer. One of them shows one of Ora's artistic performance. Of note, Ms. Itkin is not only a highly talented pianist. She is also a generous one with her public. Indeed, Bambi's mother-in-law became a fan. The latter emailed Professor Itkin and inquired about a piece of Rachmaninov. Despite her busy schedule, very generously and kindly, Ora surprised Bambi's mother-in-law by mailing her one of her CDs.
To conclude this post, thank you Ora for inspiring Bambi. It is always a pleasure and a source of inspiration to chat with you, whether you are wearing your hat of interviewee or interviewer. Please keep up your great and much needed work!
—