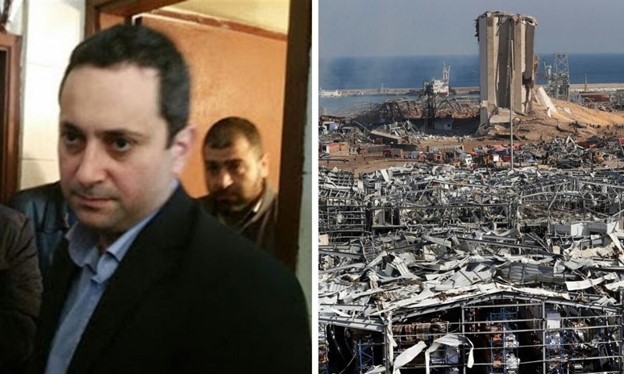 Thank you, Judge Bitar, for doing your job in what appears to be an independent and transparent way.
First, here is one of Bambi's posts on the surrealistic Beirut port explosion in which she reported that Judge Bitar is considered by senior Law Professors as being both talented and decent. She also wished him to be safe.
Second, a few days ago, Bambi read that the office of a lawyer was the target of a blast. It was not clear if it is related to this case or to another case. Regardless, it is (always) shocking and unacceptable to see targeted violence against lawyers, judges, courts, etc. Anyhow, it seems that this lawyer and his two children (also lawyers) are thankfully all safe and sound (https://www.the961.com/sakher-al-hashem-office-explosion/amp/).
Third, Bambi was happy to read about this decision by Judge Bitar: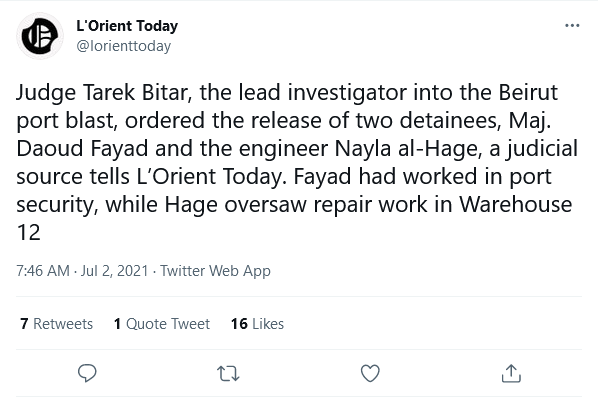 Bambi does not know the engineer Nayla el Hage and Maj. Daoud Fayad, but it does not take much reflection in life to guess that often innocent scapegoats pay the price instead of negligent criminals. Bambi wrote a post about Ms. el Hage (she did not know abou Maj. Daoud Fayad's story at the time):
Fourth, it seems that Judge Bitar is also asking to remove the immunity on three Ministers in order to interview them. Questioning top politicians is a first in the investigation of the Beirut port…
https://www.reuters.com/world/middle-east/beirut-blast-judge-start-questioning-top-politicians-news-agency-reports-2021-07-02/
As a reminder, the surrealistic Beirut port explosion destroyed half of the capital, killing 200+ residents (including children), and injured 6000+ others (including Bambi's niece, brother-in-law who almost lost an eye, and a DEAR childhood friend who is still undergoing serious surgeries to her leg since August 4. 2020).
For Bambi, who is not an expert of explosives or politics, this surrealistic blast seems to be like the icing on the cake of Lebanon's negligent governance. The latter operates in the context of an endless toxic marriage between two powerful forces, the mafia and the militia. The mafia is that endemic corruption from the top down OR bottom up, as politicians usually come from the people who sadly keep on re-electing the same politicians. The militia is the warrior mindset/forces of the strongest group, which may feel empowered by the apparently weak American external policy about Iran. Bambi is saying so with respect to all nations, including both the USA and Iran. She just hopes she is wrong in being concerned because both the present and long-term future of Lebanon are at stake.
To conclude this post on a musical note, here is a song about the Beirut explosion (released in December 2020). It is in French, sub-titled in English. The singer is called Mr. Fady Bazzi. Bambi discovered his talent lately, first with the song "Jeannot le fou" (one of the earlier posts) and then she came across this song that you may or may not like. He is a businessman living in his adoptive country, the Ivory Coast or Côte d'Ivoire in French (https://fady.fr/index2.php?fady=biographie). He seems to be in love with the Ivory Coast and with "his African sun", to use his own terms. Of course, he remains attached to Beirut/Lebanon like Mr. Mark Hachem from Montreal, Québec, Canada (featured in the latest post).