Canada is mourning…
Flags are lowered.
Hearts are broken.
Broken in at least 215 pieces…
Since the remains of 215 children were discovered at a former residential school in British Columbia :(.
Of course, Mr. Trudeau is also deeply sad like all of us, as a father, as a human being, and as… our Prime Minister.
Today, Ms. Jody Wilson-Raybould challenged Mr. Trudeau with the following question: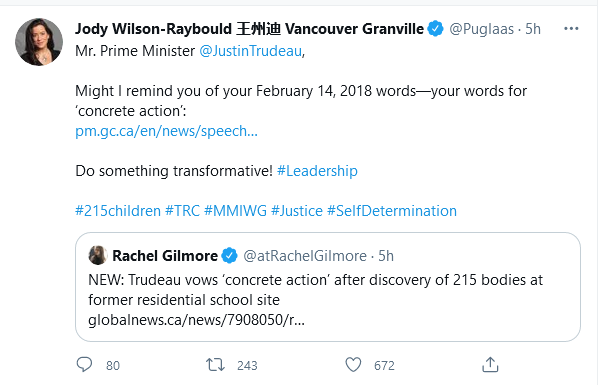 Perhaps Mr. Trudeau will use the national grieving time of reflection OR discussion (as wisely demanded by Mr. Jagmeet Singh, from NDP) to move forward with his "concrete actions". Could it be?
In the meantime, he seems to forget about our Canadian context. Yes, he appears to insist on considering us as a Northern extension of the United States.
Why is Bambi saying so? Because Mr. Trudeau insists once again on creating those identity-based programs for so-called "Black Canadians" entrepreneurs"? The federal government loan with allow the latter to access loans of up to $250K.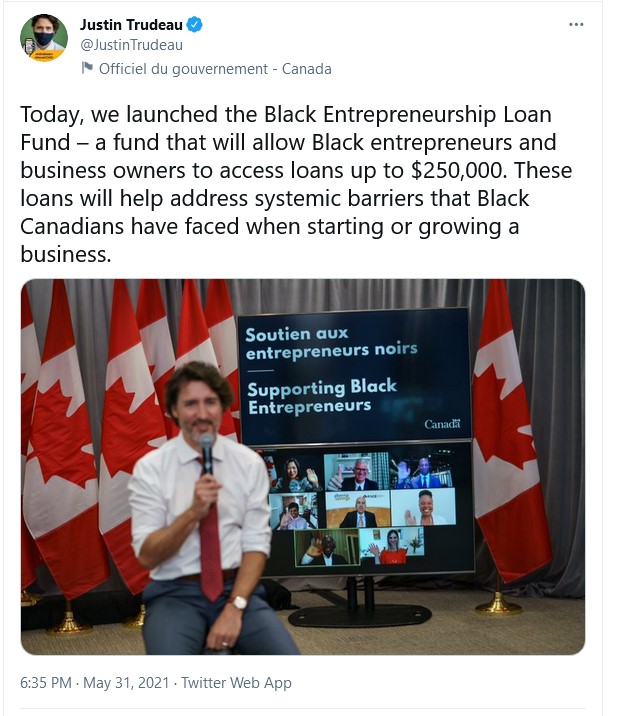 What kind of message is this program giving to those entrepreneurs? You cannot compete on your own to start your business because of your skin colour/hue?
As a result, you need the government to become dependent on in order to succeed your business.
Plus, on which discrimination-related banking services data is this program based on? Are our banks that awful in providing services to their customers?
In other terms, why are we resorting to publicly-funded identity-based programs?
What if we take this logic of identity (or sectarian)-based programs further in the future? What and whom will be next? Today, it is this target group. Tomorrow it will be whom? The Arab-Canadians? The Muslims? The Jews? Is this a wise approach in life?
Bambi may be wrong, but this approach to entrepreneurship seems to be counter-productive to the mindset of entrepreneurs. The latter usually take financial risks in aiming to succeed in their profit. They push themselves forward to serve their clients. They compete with other entrepreneurs, as needed. They likely do not need to be taken by the hand (by governments) to that extent, like little children.
Plus, will our bankers now have to apply a skin hue test to their clients to help them set up a business? Why don't they just simply apply the same criteria with all their potential clients, that is asking them entrepreneurial questions like a solid business plan, a guarantee for reimbursement, or the potential of success of their business idea in 2, 5 or 10 years?
To conclude this post, instead of creating such expensive and likely not much needed programs (even if they sound politically correct), why not focus our energy and public funds on solving the concrete social and health problems of our fellow Indigenous citizens, especially on some reserves? For instance, there is a crying need for an improved access to water, to mental health and other health-related services, and… perhaps even to a form of compensation for the families of the victims (or survivors?) of residential schools? Or maybe even to trauma-related healing programs, etc.?
—
Bambi's earlier post on this same topic: