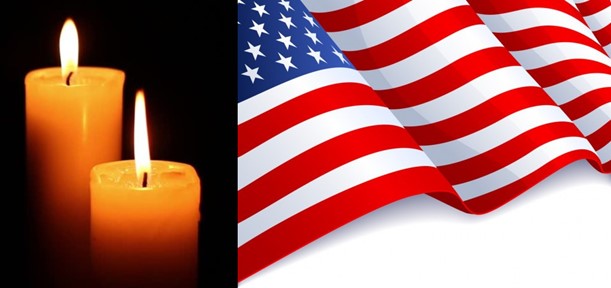 Bambi does not want this day to end without remembering all the innocent victims who lost their lives on the surreal September 11, 2001 (https://shorturl.at/pBCDK). May their memories be eternal. More healing to their loved ones and to the US population in general as well as to the entire world who observed those terribly shocking and scary images of the attacks.
As human beings, may we all know how to come together to bring more love into our own hearts, daily lives, personal relationships, and… among nations. Yes, enough of wars. Enough of hatred. May peace prevail, in both our hearts and in the world, and may love triumph.
The above was the essence of Bambi's thoughts and prayers concerning the commemoration of the 911 attacks. You may wonder now why is her Grandmother Asma mentioned in this post?
Well, from Asma who used to baby-sit Bambi and her sisters when their parents were away, many valuable life lessons were learned. One of them was related to the daily ghost of death in times of civil war. Grandmother Asma used to tell her granddaughters before they started their school days: make your bed each day because you do not know when you might die. Her idea was that our bed should be made just in case it is our last day of living and we do not know it yet.
Bambi recently thought about this thought when her mom died. The latter most likely did not know her time was going to arrive on the day she left our world. But what about the nearly 3,000 people who died in Lower Manhattan alone on that doomed September 11? Did some of them make their beds on that tragic morning? Bambi is asking because this day has been more recently declared as being: (1). A Patriotic Day (love of one's country, especially when it is being attacked) and (2) Make Your Bed National Day (https://shorturl.at/aMUVZ). Of course, whomever decided on the latter had no clue who was Asma who lived in Beirut (Lebanon) and what was her bed-related advice. In other terms, such a day was just a mere coincidence.
Related to this coincidence of bed making or not, one can argue the following: who cares about beds in the face of death? Those of us who like to be organized or who are even obsessed about order might find wisdom in Asma's words to her young granddaughters. Regardless, Bambi who adored her late grandmother got inspired by her in many ways. No wonder then that she still remembers her advice even at her age of 51 years old. Every morning, she pauses and tries to act on this advice. Did she say every morning? Perhaps not when a man is still sleeping in the bed she is leaving to go to work [hello Louis :)].