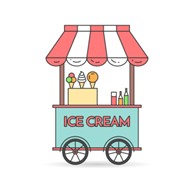 Bambi adores ice cream. This morning she was grateful to receive a brief publicly available Instagram video, produced by "Elliott Eatz", from Salome about the pistachio ice cream of a famous Lebanese shop in Paris called Bachir. The latter shop reminds Bambi of her youth in Beirut where it began and expanded across the entire country. Now, Bachir is present in Paris, São Paulo, and Dubai, according to 961 (https://bit.ly/3ZUfrw4).
If you are interested, below you can watch the video and learn about this particular oriental flavour. It will be followed by a kid's song honouring ice cream. Mmm!
Dank u wel Salome ❤️.