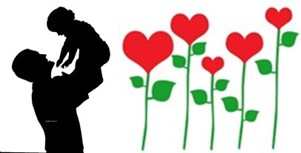 On January 7, Bambi had a post of solidarity with singer Georges Wassouf whose heart was shattered in pieces when his son Wadiw died after a surgery.
Today, totally randomly, Bambi came across a song by the father for his son. What a heart-breaking yet beautiful tribute melody. If Bambi recalls well from a chat with her dad two months ago, Mr. Georges Wassouf recovered from a life-threatening vascular event (before his loss); and here he is singing again to honour his late son with his unique voice.
If you are interested, you may find the song below. The lyrics are in Arabic, but the emotions of sorrow are universal. The writer is Mr. Khaled Tag Eldeen, the composer is Mr. Mohamed Yehia, and the arranger is Mr. Zezo Farouk.
The YouTube video features moving family pictures where we can see Mr. Wadiw Wassouf, as a baby. We can appreciate the father-son love, which shows in their eyes, smiles, and the way they touch or hug each other. It is also moving to watch all the other beautiful family pictures.
Thanks to Mr. Georges Wassouf's colleagues for their support. May Son Wadiw 's memory be eternal. May music contribute to soothe his dad's aching soul ❤️.
—