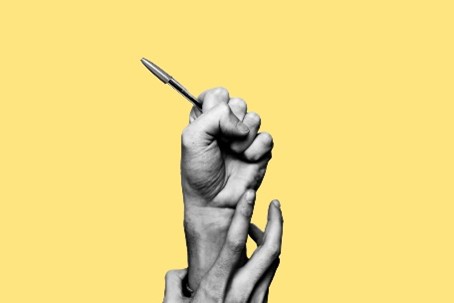 Bravo to Minister Pascale Dery for sending a letter to all the Presidents of Québec universities reminding them of the value of academic freedom, denouncing censorship as well as the discriminatory practices of the so-called EDI (Equity, Diversity, Inclusion) in attributing Canada Research Chairs. Finally, someone standing up against this federally-imposed divisiveness!
Below, you can find her tweet and her letter, all in the official language of Québec. However, Bambi unofficially translated it for you below, with the help of her faithful friend, Mr. Google Translate.
First, Ms. Dery's tweet, which publicly shared her letter, reads as follows: "I sent a letter to the universities in order to position myself on the importance of academic freedom. Let's work together for workplaces exempt of censorship".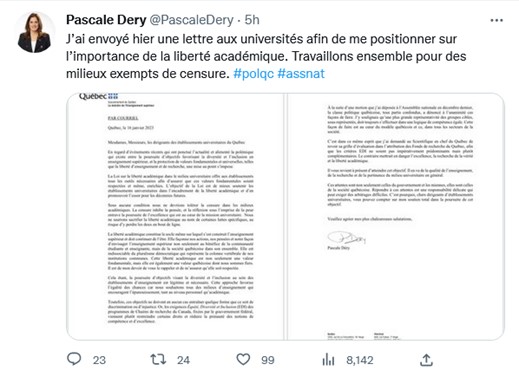 Ms. Dery's beautiful letter to the Presidents of Québec universities (French content) appears following Bambi's unofficial English translation:
"Québec, January 16, 2023
Ladies and gentlemen, the leaders of the universities of Québec
With regard to recent events that have punctuated the news and fuelled the controversy that exists between the pursuit of objectives favouring diversity and inclusion in higher education and the protection of fundamental and universal values, such as freedom of education and research, a clarification is needed.
Québec's bill on academic freedom in universities provides institutions with all the necessary tools in order to ensure that these fundamental values ​​are respected and even enriched. The purpose of this bill is to better support academic institutions in the framework of academic freedom and in promoting growth in future decades.
Under no condition should we tolerate censorship in academic institutions. Censorship inhibits thinking and thinking in the grip of fear hinders the pursuit of excellence, which is at the heart of the university's mission. We cannot sacrifice academic freedom in the name of certain specific struggles, with the risk of losing both at the end of the line.
Academic freedom constitutes the very foundation on which higher education was built and must continue to be so. It shapes our actions, thoughts, and our way of envisioning higher education, not only for the benefit of the student and teaching community, but also for the benefit of the Québec society as a whole. It is inseparable from democratic pluralism, which represents the backbone of our common institutions. This academic freedom is not only a core value, but it is also a Québec value of which we are proud. It is my duty to remind you of this and to ensure that it is respected.
This being so, the pursuit of objectives aimed at diversity and inclusion within educational institutions is legitimate and necessary. This approach promotes equal opportunities because we all want educational environments that promote growth, both personally and academically.
However, under no circumstances should these objectives lead in any way to any form of discrimination or injustice. However, the requirements of Equity, Diversity, and Inclusion (EDI) of programs of Canada Research Chairs, which are set by the federal government, rather restrict certain rights and reduce the primacy of the notions of competence and excellence.
Following a motion that I proposed to the National Assembly last December, Québec's political class, all parties combined, unanimously denounced these ways of doing things. I underlined that a greater representation of the target groups, underrepresented, must always be carried out in a logic of equal competence. This way of doing things is a the heart of the Québec model, and this in all sectors of society.
It is in this spirit that I have asked the Chief Scientist of Québec to review his evaluation grid in the allocation of research funds by the Fonds de recherche du Québec, so that the EDI criteria are not imperatively predominant, but rather complementary. To do otherwise would endanger excellence, the search of truth and academic freedom.
It is now up to you to achieve this goal. It is about the quality of teaching, research, and the relevance of academia in general.
These expectations are not only those of the government and mine, but they are also those of Québec society. Meeting these expectations is a delicate responsibility that can require difficult trade-offs. This is why, dear leader of university institutions, you can count on my full support in the pursuit of this objective.
Please accept my warmest regards,
Pascale Dery"