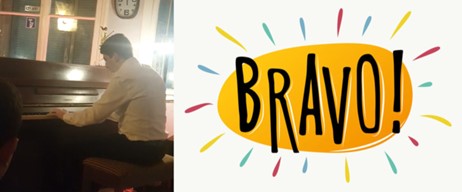 Mr. Jad Dagher is full of talent. Bambi is not only impressed, but also proud!
Indeed, Jad Dagher is only 17. Yet he completed the Trinity College of London (Grade 8) program (https://bit.ly/3Z1qCDE). The latter is a highly prestigious and rigorous leading exam board and independent education charity. It has been providing assessments around the world since 1877. It specializes in assessing communicative and performance skills, including music, drama, English, and combined arts. The Trinity College of London has over 850,000 candidates per year in over 60 countries, imagine. Jad Dagher has been one of them. He is skilled in both sciences and music, among other skills. Bravo for his multi-talent, diligence, and beautiful attitude in life.
This post will focus on Mr. Dagher's musical talent only. He began learning piano at age 7. Yesterday, on December 26, 2022, he gave his first performance on piano. He interpreted Bach, Mozart, Debussy, and Skoryk. His concert was followed by an opera concert featuring Ms. Maria Dudnik who was accompanied on piano by Ms. Kateryna Azzi. The latter is the Rock'N Bach School of Music and Art's piano teacher.
Following the poster below, you can appreciate Mr. Dagher's INCREDIBLE talent. Notice how he has memorized the pieces he played. Of note, the last videos are Mozart's 12 variations of "Twinkle Twinke Little Star" (https://bit.ly/2VBaI0U).
It takes an immense talent, much practice, and courage to perform solo as Mr. Jad Dagher did yesterday. Please, Jad, keep up BOTH your talent and dedication. Bravo for making us all proud and thank you for being an inspiration to Bambi ❤️!