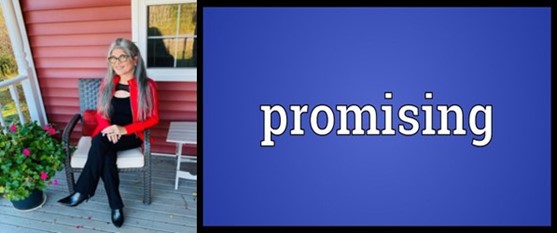 First and foremost, thanks to the Warktimes for keeping us informed (https://bit.ly/3SVLRSN). Mr. Wark's recent article is about a highly promising candidate for Tantramar Mayor:
Remember her name. It is Ms. Bonnie Swift, P.Eng., MBA,CPA,CMA.
Ms. Swift is a candidate in addition to the the incumbent Sackville Mayor, Mr. Shawn Mesheau, and the incumbent Sackville deputy Mayor, Mr. Andrew Black.
Bambi was so happy to read Ms. Bonnie Swift platform (https://bit.ly/3DVr9P3). It is impressive to say the least. Yes, it is rigorous, practical, and oriented toward open governance and problem-solving. Ms. Swift reports being "a firm believer in Parkinson's Law. It is all about efficiency. It is the concept that work expands with the time allotted. That extra time costs money. You get can more done when given less time and money to complete a project".
Most importantly, her platform shows both responsibility and accountability. For example, she seems committed to ending secrecy and reports believing "that the press should have adequate access to information". Of note, she is "vehemently against cancel culture". She does not seem to be afraid of naming a spade a spade. For example, her platform clearly states that "it is pure meanness in the guise of virtue but there is no virtue in cancelling someone's paycheck or medical benefits because of something they said that you deemed inappropriate". Thanks to Ms. Swift for being not only pragmatic, but also principled and honest. Bambi was particular happy to read that, like her, she believes in the diversity of thoughts and freedom of expression. Our towns, provinces, country, and perhaps entire world need to re-embrace this value or principle. Yes, we badly need a change of this toxic culture of the urge to censor or silence politicians and citizens when we do not agree with their expressed opinion. We need to feel free, respected, and heard, as citizens. Enough of self-censorship out of fear of being cancelled. Enough of political correctness. Let's just simply speak our mind, to better communicate, in order to facilitate collaboration and solve problems.
Recently, Bambi bumped into Ms. Swift for the first time of her life, although they both live in the same small little town. She discovered a charismatic and smart woman. She seems to be a natural leader (a commander type of personality, we learn from her platform). She is highly educated, trained, and skilled. She is both a civil engineer and an accomplished entrepreneur. She also has substantial experience in successfully managing large teams and leading them toward the success of their projects.
Of note, Ms. Swift is an environmental scientist. Environmental issues, including climate change, are important to her. The Warktimes article and her platform show us her critical sense when it comes to these matters.
Also importantly, Ms. Swift is attached to local history and culture. She is active as a volunteer on this front. Bravo and thanks to her because an attachment to our local culture gives us a shared sense of belonging to and pride in our communities. As for local history, it provides us with a connection with previous generations and a sense of continuity with future generations. Is there anything more grounded than that in life?
To conclude this post, Bambi would like to wish Ms. Swift best wishes! Thank you for running for Mayor and for sharing your inspiring ideas with us, the citizens of Tantramar. In addition to being a high calibre candidate, you are giving us hope.