Bambi would like to thank her sister, journalist Roula Douglas, for sharing with her a sad story, which took place at a bank in Beirut, Lebanon. Since this morning, despite a hectic day that is about to end, this story is still hunting Bambi's mind.
As per the title of this post, the story in question is about a Lebanese woman, armed with a weapon, who broke into Lebanon's BLOM Bank demanding her OWN savings. Can you imagine? Yes, her own money? Is there anything meaningful that could be said about this desperate gesture meant to pay the fees of her sister's cancer treatment? She does not know about you, but Bambi is speechless.
In a video circulating online, Bambi even heard this lady, called Ms. Sali H., apologizing to the bank staff and clients for the fear she induced in them. She explained that she did what she did to support her sister.
Perhaps the saddest part of this story is that there has been another one similar to it in Lebanon, just today, as per Al Jazeera's reporter, Ms. Zeina Khodr. Actually, Ms Sali H.'s story is the third in total in the past weeks, as per The Guardian (https://bit.ly/3DyZfbs) and Bambi's earlier post shown further below.
To conclude this post, Bambi keeps wondering what's next for her birth country? According to the United States Institute for Peace (https://bit.ly/3Ue6XO8), "the World Bank has deemed Lebanon's economic collapse a deliberate depression because of continuous policy inaction and persistent and debilitating internal political discord". Whether the latter is true or not, the people of Lebanon have been suffering from this situation since the financial crash of October 17, 2019. When is enough enough for them?!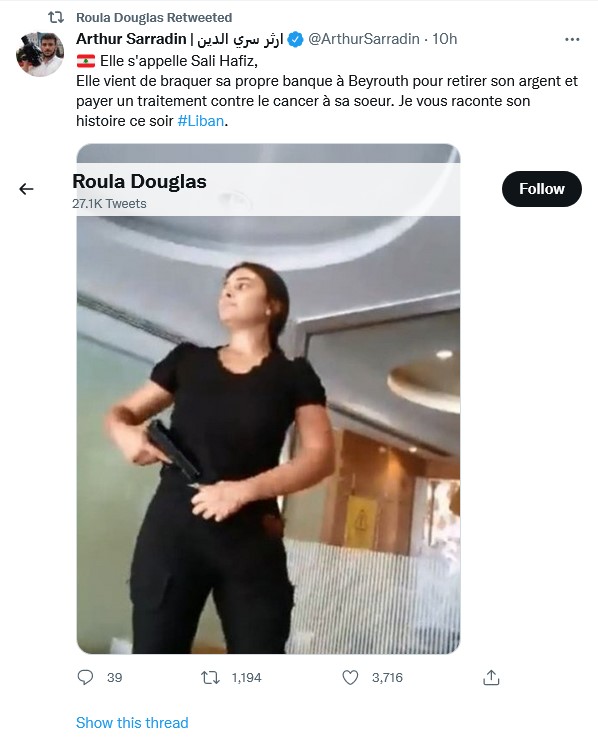 —