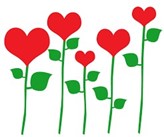 Gladson and Roula, you did not need ten years with your sweetest dog to learn from her something about love. Indeed, your family was already filled with love. Imagine how it became with Kayla to whom you offered a wonderful life of love and discipline? Kayla as well as your own generous hearts spread love around you. We are all grateful, including Bambi.
Today is your first family's Sunday without your Kayla. This is why, and with much love, Bambi thought of offering you your teenage years' love song. Yes, you guessed well: It is Ms. Bonnie Taylor's "Total Eclipse of the Heart" :). She hopes this melody will bring lovely memories back to your minds and put a smile on your faces.
Thank you for having had Kayla and for having allowed us all to enjoy her and be transformed by her love. A big thanks to you, Michael, as well as you Nicolas. Trust that your Kayla recently taught Bambi a beautiful lesson about love and care (you know how/when). Most importantly, always remember that Bambi is deeply grateful for life because we are family… without or with pets ❤️.
In English, the original:
In French… from Canada: