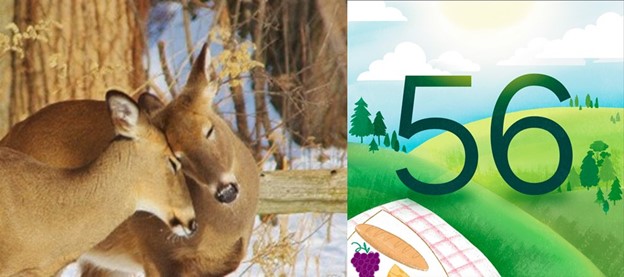 "Mabrouk" mom/dad :)! Bambi will start by thanking you for having offered your children life, love, roots, wings, and a living example of a beautiful 56-year-long union (63 if we count all your years of love since youth) ❤️.
This being said, it is now time for music! Yes, with MUCH love, your fawn would like to offer you mom and dad four songs, which are interpreted by different artists.
The first melody is Fairouz' love song, entitled "Ana la habibi wa habibi ily" ["I belong to my lover and my lover belongs to me"], and in three versions: the original, subtitled in English, followed by two other versions by two talented artists, namely Ms. Talia Lahoud and Mr. Eido el Fakir. Bambi just discovered Mr. el Fakir whose voice and sensitivity moved her heart.
The second melody is by our own Mr. Daniel Lavoie. Mom, guess what this great Canadian artist will sing for you today? Yes, you likely got it right: "Ils s'aiment comme des enfants" ["They love each other like children do"] in a duo with the fabulous Ms. Luce Dufault.
Now, perhaps you are wondering if Bambi is too romantic today. Maybe. This is why your third song is just meant to encourage you to dance. Yes, it is Mr. Ramy Ayash's "Mabrouk" ["Congrats"] Lebanese song. A melody to move? Sure. Just make no mistake. This song has a touch of oriental sentimentalism. You cannot escape it :).
As for your fourth and last song, it is an invitation not only to dance, but also to joyfully socialize with your loved ones. Yes, it is Mr. Hicham El Hajj's "Yalla Nifrah" ["Let's Rejoice"]'s melody, hoping you will enjoy listening to it.
To conclude this post, once again, "Alef Mabrouk" mom and dad ❤️. Have fun!