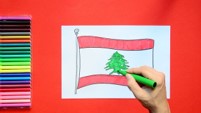 Landing in Beirut is almost always a moving experience.
Seeing the mountains, the beaches, imagining our loved ones awaiting us, being eager to walk after a third, or even fourth, connection if we are flying from far away.
If you are flying with Middle East Airlines (Air Liban), you get to listen to Lebanese songs' beautiful music but without lyrics. A sort of soft music that Bambi associates with trips to her birth country when she hears it on the radio. Well, today, she came across a video showing landing in Beirut taken from YouTube, thanks to Mr. Anthony Rahayel. Below you can see his video, along with his own positive words. Bambi will conclude this brief post with "Helwa ya baladi" ["My country is beautiful"] by Dalida and interpreted by Ms. Hiba Tawaji.
Hello Beirut: Landing in the Capital of Lebanon. "Welcome to those who believe in spreading happiness, to those who believe in the power of dreams, to those who believe in sharing joy, and who would like to join me in my exploration of this beautiful life."