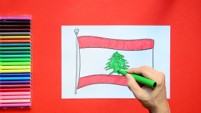 Bambi would like to thank her cousin Coco for explaining to her the most recent economic-related development out of Lebanon. The Al Jazeera brief news documentary shown below addresses the same topic.
How sad to see Lebanon in this situation since December 2019. What reform plan did its "leaders" put in place to get their country out of its economic collapse? Why is it taking so long? Why can't the Land of Cedars act at least half as efficiently as other countries that managed to get out of their past financial troubles (e.g., Greece, Cyprus, etc.)? What's next for the Lebanese people?
Given all the still unanswered questions above, it is not surprising that some residents of Tripoli (city in Northern Lebanon with a high rate of poverty) are escaping misery in dinghies under questionable safety conditions! Sadly, over six out of 60 people died recently, including a young toddler :(. Who knows? These desperate people may have perhaps been deceived into thinking that they will safely reach and be welcomed in Cyprus or the European continent (https://today.lorientlejour.com/article/1297595/search-continues-for-survivors-of-smuggling-vessel-that-sunk-off-tripoli-last-night.html).
Anyhow, Bambi will stop here. To conclude, she will now share the Al Jazeera short video mentioned above and conclude with a song-prayer, by Fairouz, entitled "Bayti ana baytak" ["My house is your house"]. She would like to dedicate this song to the grieving families… May God know how to comfort their aching hearts. If she may, by extension, she will also offer this same song to her birth country's people at large who have been struggling to make ends meet.