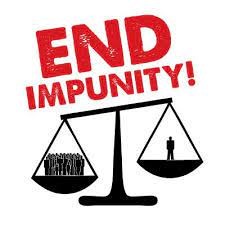 Bambi learned from Reuters that a Lebanon judge freezed the assets of five Lebanese banks. A first in the land of Cedars… and impunity!
https://www.reuters.com/world/middle-east/lebanon-judge-freezes-assets-five-banks-members-their-boards-document-2022-03-14/
Following this piece of information also reported in the Globe and Mail (https://www.theglobeandmail.com/business/international-business/article-lebanon-judge-freezes-assets-of-five-banks-and-members-of-their-boards/), Bambi came across journalist Roula Douglas' tweet that reads as follows: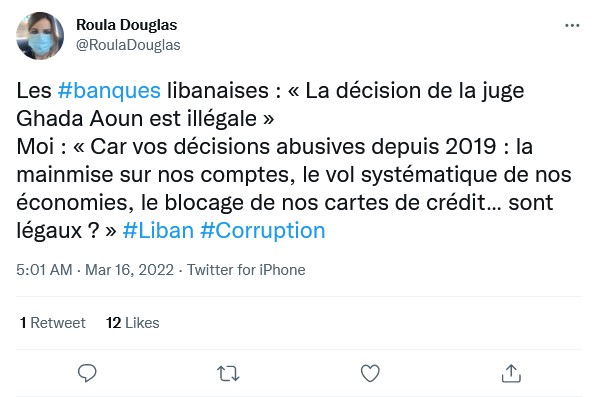 The tweet above can be translated as follows:
"The decision of Judge Ghada Aoun is illegal". Me I say: "This is because of your own abusive decisions since 2019: Maintaining a stranglehold on our accounts, resorting to a systemic theft of our savings, blocking our credit cards… are all the latter legal measures?"
Following this development, Fransabank closed all its branches (https://www.reuters.com/world/middle-east/lebanons-fransabank-closes-all-branches-after-judicial-order-source-says-2022-03-16/ ; https://www.naharnet.com/stories/en/288557-fransabank-assets-seized-operations-stop-after-lawsuit-by-depositor)… only to defy the judicial order as you can see in the YouTube video below that Bambi accessed through Naharnet and where she saw a woman removing the red wax seals.
Regardless of any responsibility of the boards of these banks or not (before or following the financial crash of October 17, 2019), Bambi would like to offer the Lebanese people a beautiful song of hope that she discovered on Youtube. This artistic performance is entitled Au ciel du Liban [In the Skies of Lebanon] and it shows us some of this country's landscape. Thanks to Mr. Roy Barbara for the music and orchestration. Thanks to the musicians and to performers, Ms. Olga Kadi and Mr. Ghady Harb.
Good luck Lebanon… you deserve better days. It is about time for a change!