On June 19, 2021, Bambi's two posts were about the beautiful Ehden village in Lebanon (in the Middle East). Thanks to her sister, Ms. Roula Douglas, Bambi was able to share some pictures and even videos from this beautiful village. However, in her first post, she made a mistake and showed a picture of Bcharreh instead of Ehden. She commented on her own post with the following words :):
"This is Bambi commenting on her own blog. To be very accurate, and in order not to mislead her readers, she just learned from her sister that those specific pictures were taken from the nearby village, called Bcharreh, and not from Ehden per se. Luckily, both are located next to each other in the Zgharta District region! So, Bambi's mistake could be easily forgiven :). This being said, if you happen to be reading this post and you are from Bcharreh, please accept Bambi's apologies. One of the future posts will be about the charming Bcharreh, count on her :)! "
Well, today, she would like to act on her older promise by devoting this post to feature the charm of Bcharreh. She hopes to do justice to its beauty… but from where to start?
Perhaps first with the etymology, which is the field of studies of the origins of words and their change throughout history? Bcharreh is of Syriac origin: "Beit Shary", which means "to begin" or "strength and stability", as per the blog below entitled "Les plus beaux villages du Liban". According to this source, Bcharreh is a "former Phoenician village where cedar wood was exploited in antiquity" .
What about geography now? According to the same Lebanese reference above, "Bcharre rises to 1400m in North Lebanon, in the heart of a majestic and fierce nature. The village, with a rather urban character, stands out above all for its exceptional natural environment marked by the presence of two UNESCO World Heritage sites, namely the millennial forest of the Cedars of God and the Holy Valley of Qadisha, home to meditation and asceticism since the beginning of the Christian era. Several hermits still live today in the rocky slopes of the Qannoubine valley".
What can we do when we visit Bcharreh? So many exciting activities including a visit to the museum (https://en.wikipedia.org/wiki/Gibran_Museum) of the great Lebanese-American philosopher/writer/visual artist Mr. Gibran Khalil Gibran (https://en.wikipedia.org/wiki/Kahlil_Gibran).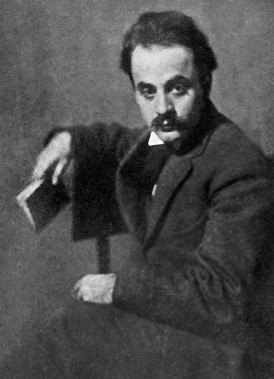 If you are into spirituality, you will be well served in this piece of heaven (religious or spiritual tourism). If you are into winter sports, you will enjoy skiing and discovering the snow-covered mountains. Mind you, you can resort to this activity even late in the spring- early summer. You can be skiing and less than an hour later (OK minus any traffic :)) find yourself swimming in the Mediterranean sea!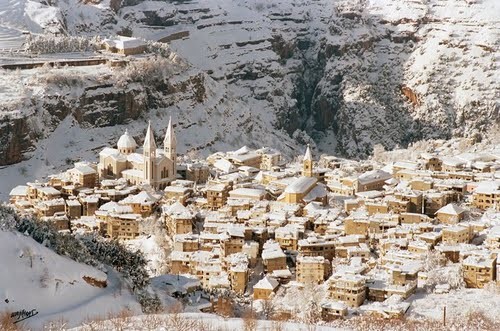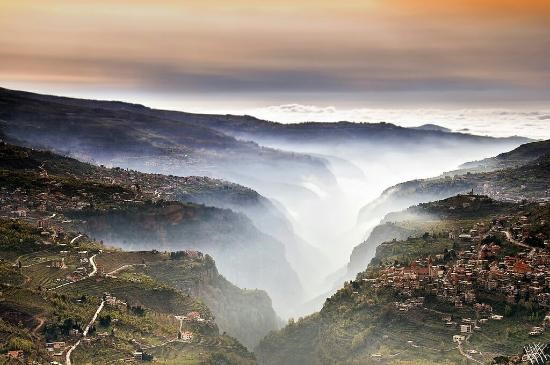 "Kadisha" means "Holy" in Aramaic, which is the language Jesus spoke. This valley is simply SO beautiful. It is close to the "Forest of the Cedars of God". So many civilizations used the timber (e.g., Temple of Solomon, shipbuilding, railways, etc.): The Phoenicians, Israelites, Egyptians, Assyrians, Babylonians, Persians, Romans, Arabs, Ottoman Empire or Turks, etc.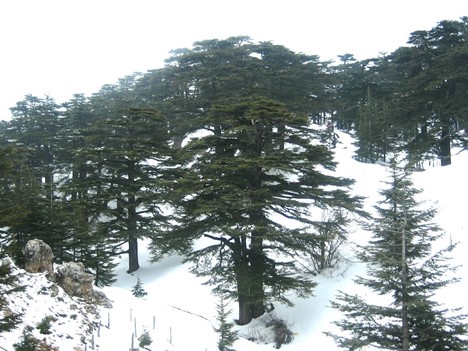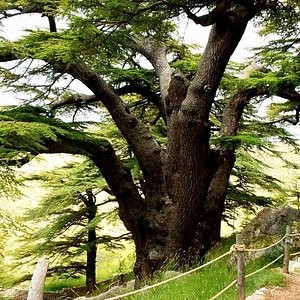 To conclude this post, here is a very brief video called Bcharreh by drone. Bambi hopes you will enjoy it, along with the music. One of the songs is called Almahaba (or love)– of course a tribute to Mr. Gibran Khalil Gibran! The other is called Bint el Shalabiya by Fairuz (Bambi still did not have the time to complete learning how to play it on the guitar :). Hopefully soon!
—
Bambi's older posts on Ehden located in the Zgharta district (North of Lebanon).