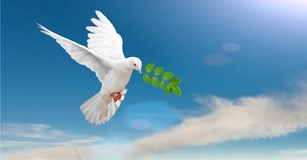 This beautiful song has stood the test of time.
Indeed, it still sadly VERY relevant for all the world, that is not just for Lebanon and for the powerful forces of the Middle East and beyond.
If Bambi is not mistaken, the music of this old song was composed by Mr. Ziad Rahbani for his mother Fairouz during the Lebanese civil war (1975-1990), precisely in 1981. The lyrics are the wise words of Mr. Gibran Khalil Gibran (thanks Mary for the clarification).
The lyrics are in standard Arabic with sub-titles in English.
Thank you Fairouz for your powerful message of peace. Is anyone listening and reflecting?