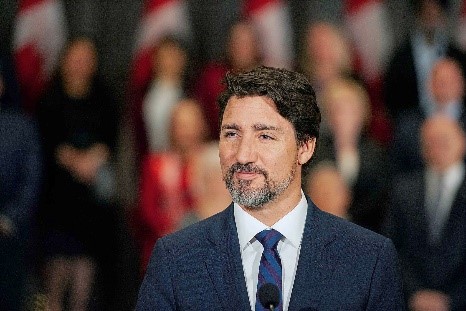 First, here is the statement of our Prime Minister, Mr. Justin Trudeau on the 50th Anniversary of Multiculturalism in Canada:
https://pm.gc.ca/en/news/statements/2021/10/08/statement-prime-minister-50th-anniversary-canadas-multiculturalism
Second, Bambi will say "Mabrouk". However, she will not offer you the happy Lebanese song of Congrats that she loves, called Mabrouk, for this annivesary… her heart is not into it, as you will see below (her replies to parts of your statement appear in bold letters).
You wrote in your statement the following:
"The diversity of Canadians is a fundamental characteristic of our heritage and identity. For generations, newcomers from all over the world, of all backgrounds, ethnicities, faiths, cultures, and languages, have been coming to Canada with the hopes of making it their home. Today, in addition to First Nations, Métis, and Inuit peoples, people from more than 250 ethnic groups call Canada home and celebrate their cultural heritage with pride – they are at the heart of our success as a vibrant, prosperous, and progressive country."
What about our Canadian pluralistic, yet unique, identity/culture, Mr. Trudeau? Doesn't it deserve to be celebrated too? Actually, newcomers, or older immigrants alike, want to celebrate Canada FIRST, before their so-called "cultural heritage"? They have precisely chosen to come to Canada because of its values, languages, laws, etc. They worked hard to fit in it and they are proud of their adjustment. Why not also celebrate what glues us together, as Canadians (within or despite multiculturalism)? Thank you.
"Canada's multiculturalism policy was implemented based on the recommendations of the Royal Commission on Bilingualism and Biculturalism. These recommendations were made upon the urging of diverse ethnocultural groups throughout Canada, a reminder of the lengthy and ongoing struggle for equality in this country. The policy promotes respect for cultural diversity, acknowledges the freedom of all members of Canadian society to preserve, enhance, and share their own cultural heritage, and considers their cultural contributions throughout the country as essential to Canada."
Does this also include the culture of Québec, as a nation, with its language and values (including secularism)?
"The policy received constitutional sanction in 1982, with an explicit recognition that the Canadian Charter of Rights and Freedoms should be interpreted in a manner consistent with the multicultural heritage of Canadians."
Very good. Bravo and thanks to your dad, and Canadians, for this heritage. By the way, and as you know (just in case you forgot it), Québec's own charter is older, from 1975:
https://www.cdpdj.qc.ca/en/your-rights/the-laws-protecting-your-rights/charter
This year, several disturbing and divisive incidents motivated by hate have reminded us that prejudice, systemic racism, and discrimination continue to be a lived reality for many Indigenous and Black peoples, religious minorities, and racialized communities.
True, but this is called racism. If you insert the term "systemic", as our Prime Minister, can you please help Bambi by pointing to those specific laws that discriminate or are systemically racist against her, as a "deer of colour"?
Note please that she did not say a "racialized deer", like you. Her community of deer and many other communities, like them, do not like this term, Mr. Trudeau. It actually sounds condescending (even if you did not mean it, Bambi is sure). Her different communities are made up of different unique individuals. Some may have bought your term of systemic racism. Some haven't. Many are fed up of hearing this term, especially without seeing concrete actions to fix the problems that need to fixed. In other terms, they are divided on this issue, just like the rest of the population of Canadians.
This being said, what about black people or religious minorities also? How are they discriminated at in Canada? By which laws specifically? She just knows about the "Indian Act" as the Canadian's state's form of injustice. Thank you.
"Today, Canada strives to be a respectful, prosperous, and compassionate country thanks to the tremendous contributions of people of all backgrounds who call it home".
Beautiful and well said. Thank you, Mr. Trudeau.
"On behalf of the Government of Canada, I invite all Canadians to find out more about multiculturalism in Canada, celebrate the cultural diversity that makes us who we are, and continue to learn from one another. By appreciating our differences as the source of our strength and resilience, we can build a truly inclusive, vibrant, and multicultural society."
Very good: What about our unity now?
Bambi listened to you, Mr. Trudeau and went to read about multiculturalism:
https://www.canada.ca/en/services/culture/canadian-identity-society/multiculturalism.html
When she opened the link above, she came across the "Black History Month" supposedly beautiful initiative:
"Every February, people in Canada are invited to participate in Black History Month festivities and events that honour the legacy of Black Canadians and their communities.
The 2021 theme for Black History Month is: "The Future is Now".
How sad and ironic that perhaps likely in the name (or at least context) of this supposedly well-meaning initiative, a Canadian associate professor from N-B (OK, it is Bambi) became the target of an online and media censorship campaign, precisely on February, 22, 2021. Mind you, although Bambi does not have evidence (beyond what has circulated in media), she had the impression back then that she has been a sort of human sacrifice (or a scapegoat) for this "black history month".
Anyhow, later in May, following an "independent" investigation, this professor was suspended from her tenured position without pay, for SEVEN long months, and without the right to go to campus, like a criminal. Yes, that was her "discipline" for having a personal blog on which she enjoys writing ("diverse" opinions on social topics). Is this fair according to you, especially that you say that you see the citizen she is as part of a "racialized" community?
As far she is concerned, Bambi is convinced that no one deserves such ordeal in life, whomever the person and regarding of any opinion(s) expressed. Indeed, just imagine a censorship (or cancelling) saga happening to you when you were a teacher. Imagine it happening, may God forbid, to your children in their careers in the very far future. Imagine the (psychological and financial) impact on your loved ones. How could this be fair?
Thus, given all the above, are we allowed to perhaps wonder if your father's multicultural government policy has failed Bambi, ironically when it was supposed to be welcoming, protective, and inclusive to/of her, as a Canadian who happens to be a migrant established in our country for over 31 years?
To conclude, regardless and beyond Bambi's saga, how can we prevent excesses in Canada ironically practised in the name of multicultural policies? Do you envision more identity-based policies in the name of multiculturalism? Or will you and your government finally see the need for a mindset shift in order to finally and truly bring us all together, in order to preserve the beautiful part (not the excesses) of the heritage of multiculturalism?
Thank you, Mr. Trudeau. Happy Thanksgiving to you/your family.