They say that a picture is worth a thousand words.
The FB and Instagram links below show you some pictures capturing Maya Nehme's beautiful paintings!
https://www.facebook.com/mayaartmtl/
Bambi's post is meant to introduce you to the above and to share the inspiring gesture this Montreal-based artist is doing for Lebanon.
First, here is the item in question: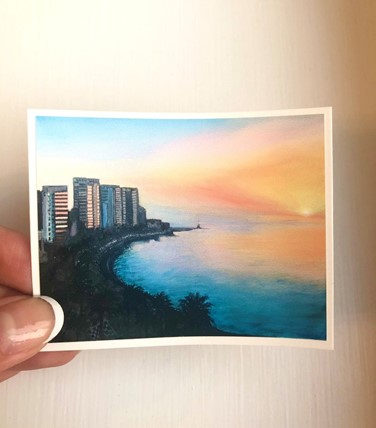 The item above, which is the gesture to help Lebanon (not the other items) is described by the artist herself as follows:
"Sticker reproduction of my original oil painting of Beirut, Lebanon. The painting is inspired by a photograph captured by photographer Rania Azar Berbery. Facebook: Photography by Rania (@photographybyRania). Instagram: @Raniaberbery"
Disclaimer: The photographer mentioned above is Bambi's own sister and she is proud of her too :).
More seriously now, Ms. Rania Azar Berbery's lost many dear friends in the surrealistic Beirut port blast in addition to having had her youngest daughter and spouse both injured. On August 4, 2021, Rania and her spouse who almost lost an eye, her daughters, Bambi's other sister and her family walked with thousands of their fellow citizens in solidarity with the victims' families. They all demanded the truth and justice.
Despite a tough year on all fronts, including the economic situation, Ms. Rania Azar Berbery still captures the beauty of her capital. She even inspired Ms. Maya Nehme whose talent, in turn, captured one of these photographs. Bravo Maya and thank you for your generosity!
From the Etsy website shown below, you can read Ms. Maya Nehme's moving words:
"About Lebanon:

As a second generation Canadian with Lebanese origins, I can't help but share the sadness that the Lebanese people, including my family in Lebanon, are experiencing. People have been doing riots and protesting for basic human rights for years now. In 2020, an explosion hit the heart of Lebanon, leaving over 200 dead, over 6000 injured and 300 000 displaced. It is considered one the most powerful non-nuclear explosions in history. It has been a year since this tragic event, and it is still very hard for Lebanon to recover. No one is held accountable and the Lebanese people are left fending for themselves. Unfortunately, it does not stop there. According to the World Bank, the economic and financial crisis in Lebanon is possibly in the top 3 most severe crisis episodes GLOBALLY since the mid-nineteenth century.

To help, I'm selling stickers of a painting I made of Beirut, Lebanon. All proceeds will go to Offrejoie. Yes, stickers might not save this country, but any donation is appreciated. I'm also selling the original painting that appears on the sticker. The painting will be up for sale soon, make sure to follow me on social media to not miss out. All proceeds of that one are also donated to the charity above.

The painting printed on the sticker that I made of Beirut is inspired by a photograph taken by an amazing Lebanese photographer, Rania Azar Berbery (Facebook page: @PhotographybyRania; Instagram: @raniaberbery). It was so hard to chose an image to paint, as Lebanon has so many sides to it. I encourage you to check out her page and get to see Lebanon through the lens other than the ones portrayed by the media. You might be surprised!

Where your donation is going:
https://offrejoie.org/

Follow me on:
Instagram: @mayanehmeart
Facebook: @mayaartmtl (Maya Nehme Art)
If you have any questions, feel free to message me or email me: mayanehmeart [!at] gmail.com.

Thank you for your support!
-Maya"
The stickers costs CAD$5.45 (€ 4.73 or US$: 4.55). The item will ship to you from Montreal to anywhere in Canada (free of charge) and even to anywhere else around the world:
https://www.etsy.com/listing/1037841806/vinyl-sticker-help-lebanon-306×244?ref=pla_sameshop_listing_top-1
To conclude this post, Bambi will first share the following words about OffreJoie (copied/pasted from its own website shared above, available in English, French, and Arabic).
"How We Came To Be

Offrejoie was born in the midst of a raging civil war in Lebanon in 1985. ​

A group of young Red Cross volunteers worked together to help the injured. They started with children's camps during the conflict by bringing groups of children from different social classes and backgrounds together to accept each members' differences. Those camps have continued their healing work since 1985, and when those children grew up, they carried the values Love, Respect and Forgiveness that they had learned at the camps and became a movement of young citizens from all the different communities and regions in Lebanon. ​​

What began as a group of enthusiastic volunteers in 1985 has developed into a voluntary movement across Lebanon with a footprint in France in 1986 and a sister group in Iraq established in 2012 to share and promote its vision and experience.​"
Last but not least, Bambi will thank Ms. Maya Nehme again wishing her a successful career. She has the talent. She has entrepreneurship. She also has a big heart!