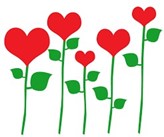 Last year, Bambi offered her mom a song to amuse her (a kids' lullaby called "Maman, les petits bateaux") 😊, as per the older post at the very end of this one.
This year, Bambi will be more serious… she is more than grateful because her mom (and dad) survived their surrealistic Beirut port explosion, despite their heavily damaged place. She is also relieved that they got their two doses of the Covid-19 vaccine.
There are no words, in any language, that can express how much Bambi loves you "mama". This being said, she would like to offer you a song, by Mr. Ragheb Alama, that moves her heart every time it plays on her internet radio. It is called "Betzakkar Ya Emmi". This means: "Mom, I remember". The singer remembers his mom's eyes… and how can Bambi forget your beautiful eyes, almost of the same coulour as the flowers' stalks above… See, Bambi still remembers. Joke to make you smile 😊. Mr. Alama also remembers how he used to find comfort and security next to his mom, as a little boy. Same here. Bambi's sisters and herself used to feel SO secure despite the heavy and noisy shelling, just by hiding behind your back in the middle of the night.
So, without much philosophy, thanks to you and dad for the roots and the wings…
Happy Mothers' Day to everyone at your end and abroad (starting with Bambi's sisters!).
May those who lost their mothers in explosions or pandemics (or in whatever other way) also find comfort in their beautiful memories.
May all those grieving mothers find comfort in one way or another.
To conclude this post on a lighter note, Bambi's spouse sends you his love and thanks you for your recipe of lentil soup. Well, poor him, he almost had a heart attack when Bambi told him it's Mothers' day today! He thought we were already in May… Well, no not yet. Anyhow, he also still remembers his Dearest mom… and her blue eyes (she will likely smile too when she will read this 😊).