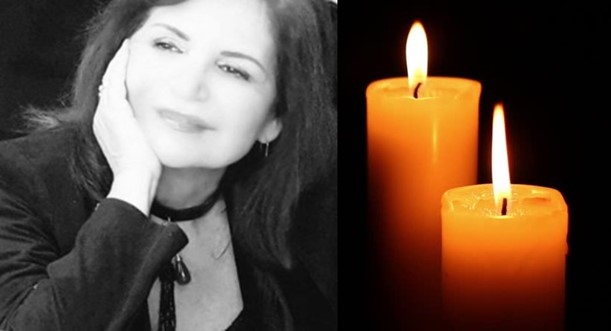 Bambi's heart is sad beyond words… She extends her heart to Ms. Jammal' s family as well as to to her own siblings, cousins, parents, and especially her circle of childhood friends around the world (Lebanon, France, USA, Canada, etc.). Like Bambi, everyone has the UTMOST respect (in addition to friendship) for Professor Nadia Jammal. She is (was and will remain…) a cultural monument and a candle's light in the darkness of narrow-mindedness, overwhelming Beirut or threatening the whole world…
If Bambi loves the French literature as she does, it is because of this incredibly passionate, talented, knowledgeable, charismatic yet discrete teacher!
Although Bambi left Beirut abruptly in June of 1990, she had the opportunity to re-connect with Ms. Jammal on more than one opportunity in the past 31 years. Perhaps the most unforgettable memory was a group dinner that took place 29 years ago.
Over the years, she kept sending Ms. Jammal warm greetings via friends or relatives (her own dad or even aunt who was her neighbour. Interestingly, both are called Nadia). More than once, when visiting her aunt, Bambi would be lucky to see Ms. Jammal on her balcony. They would engage in warm conversations about Canada, Lebanon, the summer, etc. More recently, perhaps about 1-2 months ago, Bambi was moved to receive Professor Jammal's warm greetings via her friend Rita (who touched base with her). Bambi wonders if Rita had the time to send her warm regards back…
Professor Jammal taught Bambi at her school in Beyrouth (Zahrat el Ihsan or ZEI). In addition, she also taught the French literature at the Athénée de Beyrouth. She prepared students to the French as well as the Lebanese baccalaureate. She was also a faculty member at the Faculté des lettres et des sciences humaines et à l'Institut de lettres orientales at the Université Saint-Joseph (USJ) in Lebanon.
Ms. Jammal was brilliant not just in literature and poetry, but also in politics and diplomatic relations. She has inspired MANY men and women… She is a cultural loss to Lebanon, to the "francophonie", and to humanity in our world!
Now, if she may, Bambi will allow herself to share some of Professor Jammal's own words, as published in the l'Orient Le Jour in 2009 (article by Ms. Collette Khalaf):
https://www.lorientlejour.com/article/632983/La_langue%252C_terre_de_refuge_ou_d%2527exil_.html
A quick English translation…
"No language is neutral… As soon as there is a creative writing process, there is commitment. By informing it, with our hands like clay, this "raw material" will acquire a density and a particular flavour. A specificity, even an identity. There is no language that is not communication, that is to say signs… The Francophonie is not sectarian. It is an invitation to open up to others in their diversity and likeness. From then on, the other will appear as similar to me in his/her humanism… Nothing that is human is foreign to me … However… each writer, whether Lebanese, Canadian, African or Vietnamese, will bring the specificity of the soul of his people that he/she infuses with turns of writing specific to his/her country. In Lebanon, writers and poets have striven over time to glorify this soul. But what exactly is this Lebanese soul that transcends the limits of the language? Is it as Victor Hugo said when defining the form: "It is the background, which rises to the surface."
The original French…
[«Aucune langue n'est neutre, commence par dire Jammal. Dès qu'il y a processus créatif d'écriture, il y a engagement. En l'informant, de nos mains comme une terre glaise, cette "materia prima" va acquérir une densité et une saveur particulière. Une spécificité, voire une identité. Il n'y a pas de langue qui ne soit langage, c'est-à-dire signes», observe-t-elle. «La francophonie n'est pas sectaire, ajoute Nadia Jammal. Elle est une invitation à s'ouvrir à l'autre dans sa diversité et sa ressemblance. Dès lors, l'autre apparaîtra comme semblable à moi dans son humanisme et comme « rien de ce qui est humain ne m'est étranger…» Cependant dit-elle, chaque écrivain, qu'il soit libanais, canadien, africain ou vietnamien, apportera la spécificité de l'âme de son peuple qu'il infuse par des tournures d'écritures propres à son pays. Au Liban, écrivains et poètes se sont attelés au fil du temps à glorifier cette âme. Mais qu'est-ce au juste cette âme libanaise qui transcende les limites de la langue? Est-elle comme Victor Hugo l'a dit en définissant la forme: «C'est le fond qui remonte à la surface.»]
To conclude this post, «mille merci Madame Nadia Jammal". Thanks for whom you have been and for the inspiration to all of us… We all love you and your students feel somehow orphans in their hearts right now. Indeed, you will be missed greatly by many generations of francophiles. To try to make you smile, Bambi will ask if you can kindly say hello to her aunt (your neighbour) Nadia, if you ever bump into her in heaven :). However, more seriously now: May your memory be eternal. May your broken heart over your beloved country find peace… We all beg you to be that little star in the sky that will know how to illuminate your tiny, broken yet culturally rich Lebanon!