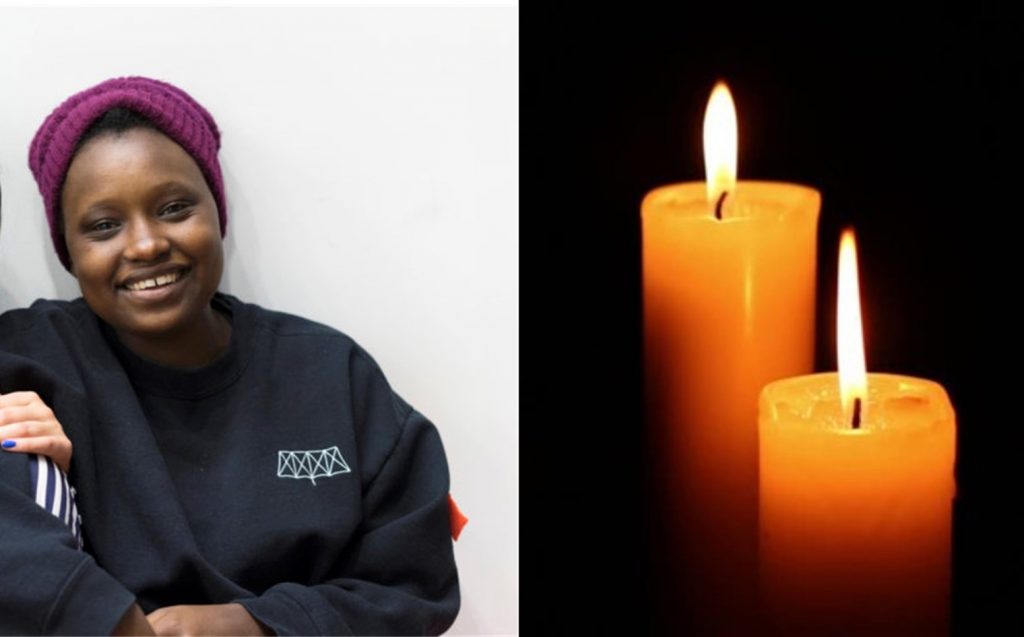 Bambi's heart is heavy and she is speechless since this morning…
Kavana (Ms. Wa Kilele) is no longer with us (at least in a physical sense because her memory will be eternal!)… Yes, tragically, Kavana died from an asthma attack.
Kavana is a talented Mount Allison University alumnus (Sackville, NB, Canada). It is hard to find words to describe her kindness, her vivid intelligence and talent, her big heart, and openness to the world.
To Bambi's knowledge, she lived in at least three countries: in Mozambique where she was born and raised (and where her family still resides), in Kenya where she has more recently moved, and earlier in Canada where she touched so many lives!
Bambi sends her love first and foremost to Kavana's grieving family, to her relatives, to her friends in Sackville, in Africa and literally around the world (from out of Lebanon where she is now, Gloria's heart is broken as she appreciates your "amazing soul", to use her own words. Bambi also sends her condolences to Gloria's family), former fellow students, the Mount Allison Student Union (MASU), the teachers, staff, and administration of Mount Allison University, the Argosy student newspaper family, the Sackville Refugee Response Coalition, the United Church, the Town of Sackville, the Rotary Club of Sackville, and many more… Please forgive Bambi if you do not read your organization's name here. Everyone loved/loves Kavana. Everyone adopted her and, most importantly, she also adopted us… like a family.
Just to make you smile Kavana, if you can ever see deer blogs from heaven, Bambi will never ever forget when/where she bumped into you the first time. It was on York Street, a few weeks before she officially met you at social events with our dear newcomers to town and then at Lebanese parties at Goya's Pizza place. We ate together, we laughed, we danced. As a reader, you may perhaps wonder how can someone recall where she precisely met someone. Well, if it is Kavana, you simply remember. It was during a snowy and windy day where Bambi was walking fast to work. Kavana, you were getting out of a store (was it the Knuckles Truffles Chocolates Chocolate shop?). We were the only two human beings on the street in this crazy weather. As Bambi shared with you later, our human brains can surprise us with their reactions sometimes… Well, Bambi's brain had a spontaneous thought (funny as it was in French): "Oh une autre femme de couleur comme moi en ville…", she was surprised by her own thoughts. Yes, Bambi identified with Kavana as another woman of the same colour as herself (keep in mind that Bambi is not much into this language of categorization of people like BIPOC, which means "Black, Indigenous, and People of Colour") Who knows? Perhaps Bambi simply identified with another member of a (visible) minority? Perhaps she felt some warmth in the cold by bumping to a smiling Kavana? Perhaps Bambi felt a fast connection to your beautiful smile (a mirror to your "awesome soul" to use your friend Gloria's words)? When our paths crossed again at a public social event in town, Bambi shared this thought with you. She will always recall how we both smiled/laughed at this souvenir and then engaged in a fun and enriching conversation.
Indeed, Kavana was talented in connecting with everyone. What a great listener. She was also a pleasure to listen to, to get to know, and learn from. Thank you Kavana for whom you have been. Thanks to your family for having raised you and for them and life who brought you to us. Our lives would have not been the same without your journey among us… Sackville and our province of New Brunswick are grieving today with all your loved ones worldwide.
Among many of Kavana's amazing contributions to our campus and town are her articles in Argosy (2016-2017):
https://www.since1872.ca/author/k-wakilele/
As you can see in the link above, she was passionate about social justice and she wrote MANY informative and thoughtful articles on various topics listed below (with links):
For those who checked the box labelled "other"
What's new in NB? (April 5, 2017)
What's new in NB? (March 22, 2017)
Focus group on mental health accommodations held on campus
Salt use on slippery Mt. A sidewalks
A day in the life of a snow plower
Indigenous speakers discuss MMIW
Mt. A students upset about Trump win
Student-led mental health groups aim to break down stigma
Sackville Commons opens to community use
Decolonization of academics not happening on campus
Queerphobia in communities of colour teeming with hypocrisy
All-gender bathrooms to be the norm at Mt. A
Changes to racism policy in progress
To conclude this post, it is not easy to say good-bye in any language… Bambi does not know if you or your family speak Makhuwa, Changana, Sena, Nyanja, Ndau, Chwabo, Tswa, or another language, perhaps most likely Portuguese. So, Bambi will choose the latter to say: "Adeus" Dearest Kavana… Thank you, we all love you, rest in peace, may your memory be eternal and inspiring, and may God knows how to comfort your loved ones' hearts during their grieving journey.