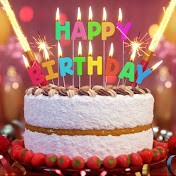 Among the millions of people celebrating their birthdays today around the world, there is a unique and a dear individual. His name is Doudou.
For the readers who have never heard of Doudou before, he is Bambi's "brother" who happens to be her bother-in-law. OK, this sounds complex and WEIRD, but it simply means that this guy has been a gift of a brother for Bambi since she was 9 years old :).
Now that the introductions have been made, and with much love, Bambi will offer Doudou two melodies today: his first one is a personalized Happy Birthday song, which she was happily surprised to find on Youtube. As for his second melody, it is Mr. Michel Fugain's "Chante" [Sing for Life] song. Bravo to the talented kids performing it and shouting: "Sing for life. Sing as if you are going to die tomorrow. Yes, as if nothing matters. Sing, yes, sing and love life. Love like a thug, like an insane, like a dog, like it's your last chance. So sing, yes sing".
Happy Birthday, dearest Doudou ❤️ !