The short BBC documentary that Bambi just came across shows: (1) a loving dad crying out of despair as he cannot afford a decent life for his 6-year-old daughter. Kind people on the street, awaiting to fill their cars with gas, try to comfort him; and (2) a heart-breaking grieving mother who lost her son in the surrealistic Beirut port explosion (still unaccountable since August 4, 2020!).
After watching this documentary, Bambi toured the latest news of her birth country. She came across two local media articles (961and l'Orient Le jour) as well as tweets by journalist Roula Douglas. She will start by sharing them. This will be followed by the BBC documentary and, of course, a song.
Indeed, to conclude this brief post on a meaningful (and hopefully powerful) musical note, only one song comes to Bambi's mind. It is called Ya Natrin Shou Natrin [You who are waiting, what are you still waiting for?]. The singer is called Mr. Rabih el Khawli who, after a successful artistic career, left behind income and fame and became a priest. If Bambi is not mistaken, he may be living in Québec, Canada. His name is Father Tony El Khawli now. You can see him in the video about the Lebanese revolt of October 2019, just before the pandemic. The old song by the Rahbanis stood the test of time. It was featured in one of Bambi's earlier posts (shown further below). Here is a quick translation of it s lyrics for those of you who do not understand the Arabic language.
"Revolt for once, revolt" (title)
You who were waiting, what are you waiting for? What do you expect from those who stole the sunshine and sold the wind, along with their conscience? From those who stole the country and built houses larger than its squares?
You who were waiting, what are you waiting for?
Revolt for once. Stand up in those squares and tell them: You have stolen, you have killed, yes you have assassinated the people, the country, and the dream…. And you turned this land into a refuge for the Pharisees (or self-righteous)…
…Wake up from your coma, time is running out, become the destiny of your country".
As per the two articles below, there is a theft of electricity cables because of copper, which has resulted in power being cut off (or what is left of it!) to Lebanese towns in both the north and the south of the country.
https://today.lorientlejour.com/article/1286442/cable-theft-causes-power-outage-in-north.html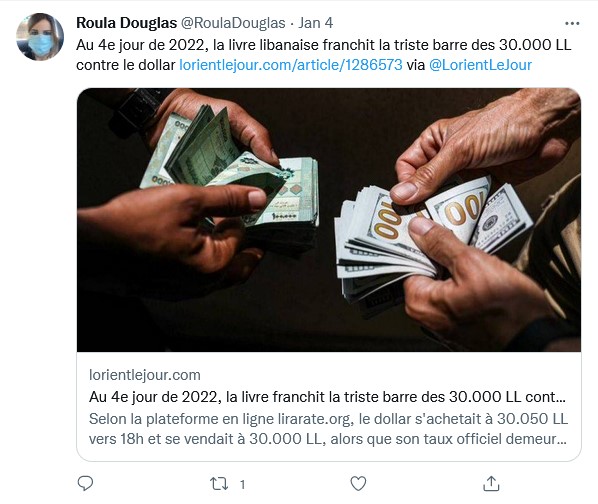 —