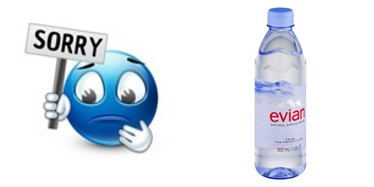 First, here is the story:
https://www.thenationalnews.com/world/europe/ramadan-2021-evian-s-social-media-post-sparks-backlash-1.1203616
Second, here is the tweet of apologies ?:

Third, those so-called offended observant Muslims can simply avoid reading the tweets of Evian (same simple logic in life for anyone "offended" by any ad, song, concert, book, article, etc.).
Another healthy idea for them would be to drink Evian after sunset (it is highly recommended to drink water during the Ramadan fast to avoid dehydration).
Fourth, Evian representatives did not go distribute bottles of water to people leaving mosques after the morning or mid-day prayer. Had they done that, or had they made fun of people's religious beliefs, this would be truly offensive and unacceptable.
To conclude, from this story, we see that the endemic political correctness has also hit France. Bambi cannot help not to wonder the following: (1) How will this company's ridiculous apologies help increase its sales or improve its brand image? and (2) In what ways does this story promote tolerance or improve the living-together ("le vivre ensemble" in French)?